Por Esto! Is Keeping Journalism Real
Mexican Newspaper is Committed to the Struggle for Authentic Journalism
By Jillian Kestler-D'Amours

Class of 2010, School of Authentic Journalism
February 9, 2010
CANCUN, QUINTANA ROO AND MERIDA, YUCATAN, MEXICO, FEBRUARY 5 2010: Bullet holes pepper the facade of the Por Esto! newspaper's Cancun, Mexico, office, leaving leopard-like beige spots against a red background.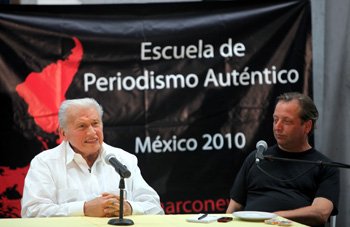 Por Esto! publisher Mario Menéndez Rodríguez granted a four hour plenary interview with School of Authentic Journalism president Al Giordano on February 5 in the circulation garage of the Mérida, Yucatán daily.
D.R. 2010 Noah Friedman-Rudovsky
A crater in the cement lies a few meters from the newspaper's front steps, a reminder of a
grenade that exploded there in 2006
.
Inside the newsroom, two windows have been completely filled in with concrete as a way to protect the 20 reporters and four photographers inside.
"We all live under constant threat," says Renan Castro, Por Esto!'s Regional Editor for the state of Quintana Roo. "This is normal life for us."
But normal life for Mexico's third largest newspaper – combined, its Cancun and Merida editions sell over 75,000 copies each day – involves much more than threats of violence.
The most important aspect of Por Esto!'s ethos (and the reason its staff receive so many threats) is its unwavering search for truth, and its drive to voice the concerns of local communities from around the Yucatan Peninsula, according to Editor and Publisher Mario Menendez Rodriguez.
"The journalist has a responsibility to live the same life as the people he is reporting on. As a journalist, it's my responsibility to defend these people, the people who have lost everything," Menendez says.
Dressed head-to-toe in white and seated in a large hall – normally used as the garage for the trucks that deliver the paper daily – in Por Esto!'s Merida office, Menendez explains that the newspaper's strength has been its authentic approach to reporting.
"The struggle to be authentic is difficult," he says, explaining that authentic journalists should be focused on the "search for truth and verify what's true."

Renan Castro, editor of the Quintana Roo newspapers of Por Esto! speaks to students and professors of the 2010 School of Authentic Journalism on February 4 from the step ladder of the newspaper's Fast 300 printing presses in Cancún. D.R. 2010 Noah Friedman-Rudovsky
Menendez was one of very few Mexican journalists to report on the
1968 Tlatlelolco massacre
in Mexico City in which government forces killed between 200 and 300 protesters and bystanders and arrested over 1,000 people (some estimates place the number of students assassinated on that October 2 to be more than one thousand) in the Plaza de las Tres Culturas, a few days before the Summer Olympics were set to begin there.
Menendez was there, and published reports and photographs of what had happened in his now-defunct magazine, Por Que? ('Why?').
As a result of his reporting on the killings, Menendez was arrested and exiled to Cuba for eight years.
He was only readmitted into the country in 1992 under specific conditions, which included agreeing to not create a new publication by the name of Porque?.
Instead, Menendez named his newspaper Por Esto! ('That's Why!'), an obvious jab at the government-imposed restrictions on his return, and continued doing what he does best: reporting fearlessly.
"As a journalist, I always tried to be conscious of who I was and what I was doing," Menendez says.
Por Esto! quickly began looking critically at topics that weren't discussed in most other Mexican media outlets, including organized crime and drug trafficking, among others.
But it was the newspaper's close connections to local communities that really gave it an edge. In fact, in the past Menendez would hold bi-weekly public assemblies to get a sense of community members' concerns, questions and criticisms.
"This created a relationship between the reader and the newspaper and I just thought I could never imagine the Ochses and Sulzbergers of the New York Times going out and holding a public assembly and subjecting themselves to their readers in this way. And I think that has a lot to do with why in the very time when most newspapers have lost circulation and are dying that this fairly young newspaper, Por Esto!, has grown so quickly," says Al Giordano, the editor and publisher of the Narco News Bulletin, an online publication that specializes in the drug war and democracy in Latin America.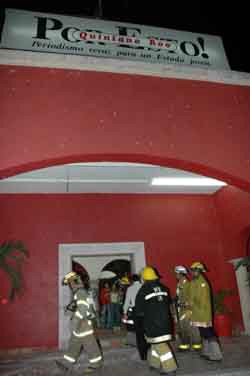 Emergency response crews arrived at the Cancún offices of the daily Por Esto! in August 2006 after grenades were exploded at the entrance.
File photo Por Esto!
It was
Por Esto!
's attentive ear to members of a small fishing community in the Yucatan in the late 1990s that helped its reporters discover a cocaine trafficking operation being carried out on beachfront property owned by
Roberto Hernández Ramírez
, the general director and majority owner of the National Bank of Mexico, also known as Banamex.
"We've always been one step ahead from the rest of the media and the stories that they later turn into big national and international scandals. And how did we get to become one step ahead of the media? It's because we work the neighborhoods and stay close to the people and listen to what the people say, and don't wait for a government press release to tell us what's happening," says Por Esto! Regional Editor Renan Castro.
Castro – who addressed 60 students and professors of the School of Authentic Journalism during a February 4 visit to the Cancún headquarters of the newspaper to tour its newsroom and printing press – says he was offered a $300,000 bribe to discredit the story about Hernández after its publication. He turned down the money.
As a result of Por Esto!'s reporting on the matter, Banamex made a total of 18 libel claims against the newspaper – 17 in the Mexican courts and one in the New York Supreme Court.
The case was taken to the United States because Banamex claimed that Por Esto! Publisher Menendez and Narco News' Giordano made slanderous statements against it during a public lecture at Columbia University and in other interviews with US-based news outlets.
The bank also cited eight articles that Giordano published on Narco News about Por Esto!'s reporting as allegedly libelous against the bank and its owner. In the end, Giordano and Menendez emerged victorious – the criminal charges in Mexico and the civil lawsuit in the US were thrown out by judges – and in the process established a precedent that created important freedom of the press protections for online news organizations and journalists.

Narco News publisher Al Giordano introduces journalist Renan Castro during the School of Authentic Journalism's February 4 visit to the editor's Cancún headquarters.
D.R. 2010 Noah Friedman-Rudovsky
Today,
Por Esto!
continues its crusade against drug trafficking in the Yucatan. Castro explains that this is the primary reason that the drug traffickers and their allies have targeted it with violence and intimidation.
"The drug trafficking problem is never going to end until they end the relationship of the government and the police with this industry," Castro says. "Journalists must live alongside the common people so that they can reflect the reality. For us, it's not one big story, it's the continuation over time."
And as Por Esto! nears its 18th birthday, Publisher Mario Menendez vows that the newspaper will continue to look at the Yucatan peninsular region from a truthful, community-based, and most importantly, authentic perspective.
"I will keep fighting. I can't leave behind all the people who believed in me," says Menendez, who describes Por Esto! as being "built with the love of many revolutionaries from around the world."
"Perhaps we will not see the results of the struggle we have to take along these years, but what I can tell you is it's worth staying to fight."
Click here for more Narco News coverage of Mexico
Lea Ud. el Artículo en Español

Narco News is funded by your contributions to The Fund for Authentic Journalism. Please make journalism like this possible by going to The Fund's web site and making a contribution today.

- The Fund for Authentic Journalism
For more Narco News, click here.