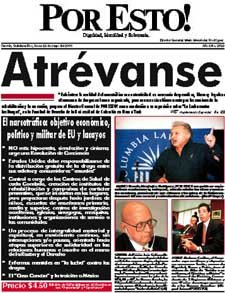 The Daily of Dignity, Identity and Sovereignty, that in nine years has been chosen by newspaper readers as the top regional daily and the third most widely read in all of Mexico
In this month of the fall of New York Times bureau chief Sam Dillon, who tried in vain to censor, intimidate and silence Mario Menéndez Rodríguez -- leaving Menéndez, until recently, vulnerable to the death threats of the Narco State -- it is only fitting that we award to the great veteran Mexican journalist the May 2000 honor of Drug War Hero of the Month.

It was Menéndez who, this month, disproved government lies that claimed that the Zapatistas had kidnapped a helicopter when in fact it was stolen by drug traffickers in an inside job.

And it is Menéndez, with this month's groundbreaking report, Dare to Legalize, who has made coherent the Latin American argument for ending drug prohibition.