Filmmaker "Gringoyo" Putting the Fun Back Into Revolution
Greg Berger Harnessing Humor to Build Video Viewership and Social Movements
By Leah Victoria Hennessey

Class of 2012, School of Authentic Journalism
May 1, 2012
This report appears on the internet at http://www.narconews.com/Issue67/article4577.html
Gringoyo is carrying a small pig through the streets, surrounded by Mexicans in surgical masks during the swine flu scare in México City.
Gringoyo is the white guy in the Che Guevara T-shirt, showing up at the protest for free food. Gringoyo is getting wasted with Texan college girls in a town whose economy has been destroyed by the recent violence of the drug war.
Gringoyo is underfoot and overzealous, and fictional, and yet he somehow manages to make his way into all kinds of resistance struggles in Latin America, and into the hearts of those involved in the movements. This lucky clown is the creation of self-proclaimed "recovering documentarian" Greg Berger, who stars in, directs, and produces viral Youtube videos as a tactic and practice to forward nonviolent resistance movements.
These satirical videos not only talk about movements, they are filmed in conflict zones in moments of political tension. Gringoyo moves in a very real world with the freedom of a cartoon. Berger's characters do not all call themselves Gringoyo; one is the director general of the U.S. company Smithfield Foods, another is the man who owns Mexico, another face of Gringoyo is a wealthy U.S. college student on spring break, but they are all gringos in Mexico, and they speak Spanish with the same atrocious accent.

Berger as "Gringo Starr," a North American reporter in Mexico uncovering a

US

Embassy plan to break up the Sinaloa drug organization by fixing up crime boss Chapo Guzman with Yoko Ono.

DR 2011

from the video "Narco-Mania!" by Narco News TV.

The real Berger, in fact, speaks excellent Spanish. He grew up in New York City but has spent most of his adult life in Mexico

"The more it is confirmed to me that I will spent the rest of my life in Mexico," he explains, "the more flexible I am at making fun of myself as a gringo."

Followers of Gringoyo often comment on his website that Berger cannot possibly be a gringo and say that they have listened carefully, over and over, to his speeches and come to the conclusion he has a distinctly Mexican accent, which he has artfully disguised as Californian. Berger's naturally bugged eyes seem to flash even wider when he talks about these comments, because they are evidence that people are watching the videos multiple times, and returning to them, and questioning them.

Berger is not looking for millions of web hits, but rather he says he is looking for "sustained viewership" that ultimately moves viewers toward a "clear objective." These two ideas may appear oxymoronic to the denizens of Youtube, who most likely relate sustained Youtube viewership to an increasingly addictive dependency on cat videos - not to mention the fact that Youtube success has always been measured in the number of page views. Berger, however, is not trying to get attention or advertising money, he is trying to accomplish specific goals of revolutionary movements in Latin America, primarily in Mexico.
Hungry for Justice
"My son lives in a city that has become a battleground for a war," Berger says of his life in Cuernavca, Mexico, with his five-year-old son.
The War on Drugs escalated exponentially, as Gringoyo explains in his video Hungry for Justice, in 2006, when Mexican President Felipe Calderon, with the backing of the United States, declared his war on the "cartels."
Since then, criminals, soldiers and police, have killed more than 50,000 Mexican citizens and thousands more have been disappeared.
Last March, Mexican journalist and poet Javier Sicilia's son was found strangled to death in the trunk of a car along with six other young men, the victims of narco-thugs.
Javier Sicilia's public essay and rallying cry, "We have had it up to here!" was born out of the pain of his son's death, and the thousands of other victims of the drug war, and laid the groundwork for Mexico's still-growing Movement for Peace with Justice and Dignity, which celebrated its one year anniversary on March 28 2012.
Berger and the community of activists, journalists and educators of which he is a vital part have devoted considerable energy and thought to supporting and strengthening the Movement for Peace. Berger especially aims his efforts at people who are not activists, who are not involved in movements, by "adapting and finding a voice the people will listen to," he says. In this case, that voice is the undeniably goofy accent of Gringoyo.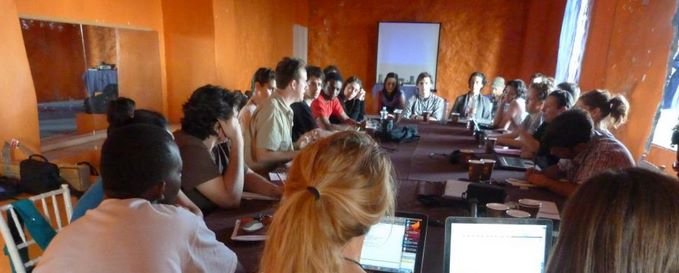 Berger convenes the Viral Video workgroup at the 2012 School of Authentic Journalism in Mexico.

DR 2012

Noah Friedman-Rudovsky.

"I love organized resistance in Mexico. People who organize and struggle are totally awesome," Gringoyo narrates over footage of a solidarity gathering on Mexican Independence Day, Sept. 16, in the indigenous town Acteal. Gringoyo explains that he could have gone to the equally exciting Zapatista rebel rally nearby, but that past experience has taught him that the Zapatistas make you pay your own way, and he is only in it for the free food. Gringoyo presents himself in the video as a nomadic protest groupie who follows the sound of the bongos to find the free lunch.

Gringoyo Productions associate and journalist Marta Molina accompanied Gringoyo to Acteal with the Caravan through the South of Mexico organized by the Movement for Peace with Justice and Dignity, and they interviewed the indigenous Tzotzils from Acteal who lived the massacre of 45 people in 1997. Molina was taken by the gravity of the situation but said that "Gringoyo is the only person that can do this. He is the only one who put humor into this in a creative way."

The video itself is ultimately a very sensitive, meticulously and artfully documented short film depicting the faces and voices of the growing resistance against the War of Drugs, which just happens to be framed by the story of Gringoyo's search for free food. Gringoyo's hilarious and ironic statements do not take away from the images themselves; they provoke closer attention and sensitive inquiry.

Molina works constantly with victims of the drug war and says that many of them who have met Gringoyo through his projects feel a great degree of trust in him. Maria Herrera a 68-year-old woman, who has lost four children to the drug war, asks for Gringoyo every time she sees Molina. The confidence the victims place in Gringoyo, Molina observes, is great support for the movement.

"He is talking about the war, and he is making it funny. This is something new," Molina adds.
Laughing our way to victory
Berger and Molina are part of a large group of likeminded media professionals working together to stage and evolve The School of Authentic Journalism, an innovative workshop involving a cast of accomplished journalists and social-movement organizers as professors. Renegade journalist Al Giordano founded it in 2003.
Every year, funds are raised to provide transportation and lodging for the majority of the students (tuition is free) who are chosen to attend the school, which meets for 10 days (this year in Mexico) and offers crash courses, seminars, and hands-on experience in the field.
The students come from all over the world, many of them aspiring or professional journalists, but also activists, artists, community organizers, educators, comedians and video producers.
Berger, who seems to only go by Gringoyo on the campus of the Authentic School of Journalism, is one of the co-chairs of the School's video group, which teaches people (students and teachers alike) how to make politically effective viral videos and how to make them reach the maximum or desired amount of people.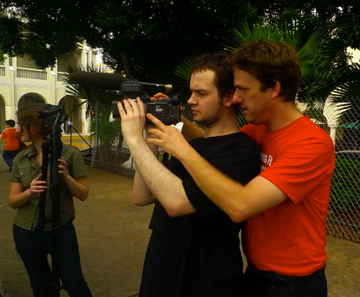 Berger, at the 2010 School of Authentic Journalism on Mexico's Yucatán Peninsula, teaches scholar Sebastian Kolendo to use a video camera.

One of the visionaries who works with Berger's video group at the School is Serbian revolutionary Ivan Marovic, whose movement, Otpor, in the 1990s brought down the dictator Slobodon Milosevic. Marovic is a great advocate of creative and original strategies for nonviolent action, having used a lot of ridiculous sounding but ultimately very effective methods in Otpor.

In a talk at the School of Authentic Journalism, for which Gringoyo served as the Spanish interpreter for the multi-lingual audience, Marovic said: "Jokes are political. Humor is questioning the existing power relations."

Making the questioning of power relations funny increases participation in a movement and lowers fear, Marovic said during his presentation.

One of the main goals of the School is teaching and developing new ways of involving people who are not political in movements of resistance, and illuminating elements of political movements that are fundamentally human and not necessarily political.

In addition to running Gringoyo Productions, raising his son and teaching at the School of Authentic Journalism, Berger is a professor of cinema studies at the UAEM (Universidad Autónoma del Estado de Morelos, or the Autonomous University of Morelos) where he teaches courses on the history of cinema and revolutionary cinema. He also teaches the only queer cinema class in Mexico.

Berger believes firmly that films can have a serious impact on people and their actions.

"If you actually go out and do something with people, in a group," Berger stresses, "something creative, something you're not expecting and something surprising, something that you feel passionate about because of the movie you've seen, that movie is successful."

When the Movement for Peace with Justice and Dignity started last year, Berger showed one of his own favorite movies to his son.

"I sat down with my son and watched Star Wars," Berger recalls, "and then he asked me what a rebel was.

"And then I took him to the Zocalo, or town square, in Cuernavaca during a nonviolent Movement for Peace demonstration] to show him that real rebels in the real world, they fight, but without violence."



For more Narco News, click here