Peruvian Drug Control Agency: Coca Cola Buys Coca Leaves
Conflicts in Peru Over Coca Industrialization
By Luis A. Gómez

Special to The Narco News Bulletin
January 28, 2005
This report appears on the internet at http://www.narconews.com/Issue35/article1159.html
We're not here to talk about the Peruvian coca growers, at least not right now. This is about our beloved Peruvian drug czar, Nils Ericsson, president of the National Commission for Development and Life Without Drugs (shortened to DEVIDA in Spanish). This man, who swears that narco-trafficking is "the financial arm of terrorism," is still talking and writing aimlessly, as we reported last March, when the great coca growers' march arrived in Lima. It seems that Ericsson has not learned his lesson, and keeps blabbering on. But he has said a few very interesting things lately, such as confirming that the Coca Cola company does indeed buy coca leaves to produce its beverage... but have patience, as this story deserves to be told in detail.
Peruvian drug czar Nils Ericsson Correa.

Ericsson not only knows how many acres of coca are cultivated and eradicated in Peru, but has also been meeting with soft drink companies, and even with the National Coca Company (Enaco) of Peru, on the issue of the possible industrialization of the ancient, sacred leaf. First he said no to any industrialization, not at all, and now, less than two months later, he says well, it is difficult, but yes, perhaps. Ericsson has contradicted himself many times, and even sent out a communiqué to "clarify his position," which is available on the

DEVIDA

website, denying that he is against industrialization, though he had previously ruled it out because "no one is interested." Despite his claims of a lack of interest, a bit more than a year ago, two new brands of soft drinks appeared in Peru: Vortex Coca Energy Drink and K-Drink. Produced by Peruvian companies, sold and marketed at unprecedented levels, the drinks are both based on coca. All completely legal. Until May 2004, when the International Narcotics Control Board (INCB) appeared on the scene and said that the drinks contain alkaloids. It wasn't very clear which (coca has sixteen different alkaloids), but as this institution is in charge of enforcing the restrictions from the 1961 Vienna Single Convention on Narcotic Drugs, Ericsson and

DEVIDA

began to worry. And, well, yes, the Peruvian soft drinks had alkaloids, but Vortex and K-Drink had "cleaned" their formulas to avoid trouble. But Ericsson suspended their production licenses anyway, even negotiating in person the sale of raw coca to one of the companies. Why? Well, an article in the Peruvian newspaper El Comercio, published last January 22, gives us a few important clues. According to Ricardo Vega Llona, Ericsson's predecessor at

DEVIDA

, the whole thing "seems strange and unreasonable, that we have this police pressure that seems to say 'we're going to go after anything that has to do with coca until it is all wiped out.'"

Another clue, in that same article, comes from Clara Cogorno, general manager of the Amadeus Corporation (producer of the Vortex energy drink): "If the companies that legally work with coca disappear, the coca growers will have no one to sell to, no recourse to avoid the eradication of their crops." But in addition to agreeing with Vega Llona, Cogorno made it very clear that this is all a pretext to strengthen U.S. drug policies, quoting the Washington Office for Latin America and calling this policy "a resounding failure."

The conflict over both soft drinks could end up in the courts, because the companies don't seem willing to allow this attack. But what has Don Nils Ericsson said lately about all this? It's worth reviewing...
Killing Rats and Getting Dandruff
On December 10, Nils Ericsson published an opinion column in El Comercio, with the suggestive title of "Theories and fallacies about the coca leaf." In this text, aside from describing lethal experiments on rats, admitting that coca shampoo had given him dandruff, and claiming, as before, that narco-trafficking is the "financial arm of terrorism" (Bush II style, without providing a single source to back this up), well, he rhetorically linked coca with drugs, insisting that no country was going to buy products "that contain cocaine," and that because of that "no such industry has a viable future." That was all, no further explanation was given.
"For the manufacture of other products," Don Nils continued, "beyond quality issues, the coca leaf is enormously expensive, prohibitively so." He was probably referring to the fact that, as eradication efforts have increased, the price of coca has risen in the last few months... by 500 percent, in fact, from 80 cents to four dollars for one kilo of dried coca leaf, as Ericsson himself explained last January 7.
I would say that if Nils Ericcson doesn't even know how to count, he is never going to understand the logic of supply and demand, which demonstrates that when products become scarce the prices rise (and everyone understands that, even small-time drug dealers in the streets). Or could it be that Peru's drug czar is working under a different logic, as Ricardo Vega Llona and Cecilia Cogorno have suggested?
Who Wants a Coke?
In his previously cited December 10 column, Nils Ericsson closed the text with a surprising phrase: "Acabemos con toda la 'coca con cola' que en forma sibilina nos quieren contrabandear." ("Let's get rid of this suspicious coca, that [my opponents] want to regulate in a hypocritical way.") It was a bizarre choice of words - "coca con cola" roughly translates to "suspicious coca," but it is hardly a common way to say it. Was he attacking the companies in Peru that make soft drinks based on the coca leaf? Doesn't he like Coca Cola? We're going to have to go over everything he has said lately... as well as some official information from DEVIDA. Let's take a look.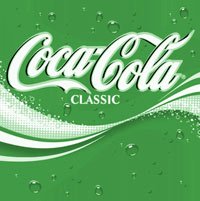 Coca Cola buys coca leaves to make its soft drink.
Art: Luis A. Gómez, based on official Coca Cola logo

Wednesday, January 26, is a date that our readers should remember. That day,

DEVIDA

released a ten-point official statement that clarified its position on the industrialization of the coca leaf in Peru. It says many things. Among other data, point #5 in the statement says that Peru produces 52,000 tonnes of coca annually..If figured alongside

DEVIDA

's statistics that there are 36,600 hectares (94,400 acres) of coca under cultivation in the country, the claim would not be very surprising... if it weren't for the fact that not even the gringos have been able to come up with such precise estimates on the amount of coca cultivated here, as they have been able to do in Bolivia. Could it be that Peru has better systems in place than Washington?

The good part comes in that same point #5. The end of the paragraph reads: "Coca Cola, the globally recognized soft drink manufacturer, buys 115 tonnes of coca leaf from Peru and 105 tonnes from Bolivia per year, with which it produces, without alkaloids, 500 million bottles of soda per day." You read correctly, kind readers, Coca Cola buys coca leaves. We have said so ourselves in past reports, and the Peruvian government says the same thing now. And so now we are sure that the "spark of life" ("La Chispa de la Vida" is Coke's Spanish-language slogan) has coca - in at least 500 million bottles a day. And that process that Nils Ericsson has told us about helped the company earn 13.3 billion dollars in net profit last year, according to their own financial reports.

In December of 2002, the transnational corporation's Mexican representative, Adriana Valladares, resolutely claimed that "Coca Cola does not buy coca leaves." And for her part, Coca Cola spokesperson Karyn Dest, interviewed by the Mexican daily El Universal, "said via telephone from Atlanta that the company does not use cocaine and that it has never been part of the drink's ingredients..." Well, no, not cocaine, but coca leaves, yes. And, to make sure, I just served myself a glass of soda... but I don't feel anything. Do you? So, what is The Coca Cola Company hiding? The have "cleaned" the alkaloids from their coca leaves, so why do they lie about buying coca from Peru?

Finally, given the claims from Ericsson and DEVIDA, it's possible to think that the logic of eradication in Peru has some strange parameters. Because if, as it seems, the process is about eradicating "illegal coca" and restricting its industrialization in products that, like Vortex and K-Drink, don't even contain alkaloids (to respect the Vienna Convention)... will it be that in the end, coca production is only permitted for traditional use - something that has so far been left alone in Peru - so that Coca Cola has a monopoly on coca-based drinks? Remember that there are many drinks out there that are very similar to the famous dark soda. And the "enormously expensive, prohibitive" cost that Ericcson spoke of? Is it that only Coca Cola has the profit margin to buy coca leaves at their current cost, while others are prevented from doing so?

In any case, the Peruvian coca farmers have not said anything, although a few days ago, in the Huánuco region, they declared the coca leaf to be part of the cultural patrimony. And that may have been a good idea, because industrialization, Coca Cola, the so-called "war on drugs," and other related issues demonstrate once again that, among the lies and half-truths, there is a lot of money, while the coca farmers are getting nothing but repression and death. We will keep reporting on this. Cheers!



For more Narco News, click here