Supposed "Terrorists" Win Their Freedom After 13 Months Behind Bars
A Humanitarian Mission Will Visit Bolivia to Look Into the Case of "Pacho" Cortéz
By Alex Contreras Baspineiro

Narco News South American Bureau Chief
May 21, 2004
"In no legal process in the world is it acceptable to imprison someone for more than a year for investigative reasons."

-Erick Altamirano, Defense Attorney
Cochabamba, Bolivia: On April 10, Bolivia and its South American neighbors were shaken by dramatic news. The "scoop" was reported by most of the commercial media: Colombian human rights activist and peasant-farmer leader Francisco "Pacho" Cortés, two other coca growers' leaders, and two children were arrested during an "anti-terrorist" operation.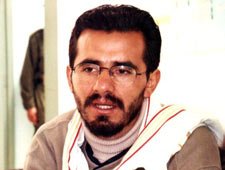 Francisco "Pacho" Cortés in the Chonchocoro prison
Photo: Narco News Agency D.R. 2004
The arrest occurred during the regime of President Gonzalo Sánchez de Lozada, later forced out of office by last October's "gas war." At the time, then-Vice Minister of Government José Luis Harb did not deny U.S. participation in the operation: "There are treaties, conventions, and joint actions… in the fight against terrorism… Terrorist activity is of an extra-continental nature, and that's why we have agreements of understanding with any country, not just the United States."
During the televised operation, masked, heavily armed men in camouflage uniforms detained the five surprised people, who could manage only to say, "We are innocent." Taken into custody along with Cortés were coca growers' leader Carmelo Peñaranda Rosas from the Chapare region of Bolivia, ex-city councilor Claudio Ranírez Cuevas of La Asunta, and the latter's two nieces, both minors.
Thirteen months – more than a year – have passed since the arrests. On May 20, Judge Carlos Sánchez Casteló released Peñaranda and Ramírez, unable to prove a single link between the two and terrorist activity, armed rebellion or organized crime.
"We believe that in this case, norms and doctrines of international law are beginning to be followed because no one can be kept in jail with no proof or even charges," said defense attorney Erick Altamirano.
In a conversation with Narco News, the lawyer said that nowhere in the world could a person be detained for so long for merely investigative proposes.
The government's first accusation against the alleged "terrorists" was that they belonged to the Revolutionary Armed Forces of Colombia (FARC in its Spanish initials). Later, they tried to link the prisoners to the Colombian National Liberation Army (ELN), as well as with the formation of illegal groups in Bolivia and even drug trafficking. The government could not prove any of this.
The Bolivian Congressional Human Rights Commission is now studying an official complaint from the self-described "political prisoners." The complaint mentions a number of human rights abuses during their arrests, committed by soldiers and witnessed by public prosecutors.
Ramírez and Peñarada reported a series of abuses, illegal acts, torture that was later covered-up, and shameful humiliations. They accused public prosecutors René Arzabe and Silvia Blacutt of violating the Bolivian Constitution as well as international treaties.
A Humanitarian Mission
A humanitarian mission has been confirmed that will visit Bolivia from June 7-9 to raise support for the country's political prisoners. The group includes Vía Campesina ("Farmers' Path") International Director Rafael Alegría, Brazilian Landless Workers Movement President Joao Pedro Stedile, well-known French farmer and activist José Bové, as well as European and Latin American politicians, peasant-farmer leaders, and Colombian human rights activists.
The mission's goal, explained in a recent press release, is to check on the prison conditions of Francisco "Pacho" Cortéz and other imprisoned social leaders. "Likewise," the statement continued, "the mission wants to express solidarity with the prisoners and press the Bolivian government for their freedom and for their civil rights. The mission wants to call attention to the repressive measures taken against campesino (peasant-farmer) movements in Latin America – measures that criminalize their legitimate activities by applying the anti-terrorism policies of the United States government."
Calling it a "war on terror," the Bush administration has escalated its military build-up around the world. Latin America, of course, is no exception; Bolivia especially, located in the heart of the continent, is a region of strategic importance for imperialist ends.
U.S. interference in this country is nothing new. The fight against terrorism is the best pretext for violating nations' sovereignty, increasing human rights violations, suppressing social movements, and crushing self-determination.
One week ago, the Bolivian Senate granted immunity from prosecution to U.S. soldiers and civilians, resulting in an outcry from many sectors of Bolivian society. For the moment, President Carlos Mesa has suspended this blow to the dignity of the Bolivian people.
A Letter to the President
Politicians, trade unionists, social and human-rights activists, peasant-farmer leaders, and others from around the world recently sent a letter to President Mesa, asking him to intervene in the case of the alleged "terrorists."
An excerpt from the letter:
We address you with extreme urgency, so that you might intervene, according to your constitutional and legal powers, to remedy the extraordinary injustice committed against well-known Colombian campesino leader Francisco Cortés, who has been illegally detained since April 10, 2003, in the city of La Paz. Mr. Cortés has been publicly slandered, accused of crimes that those Colombians and Europeans who know him for his long history as a campisino, social leader, and human rights defender find unacceptable.

Want your Excellency to know that we demand the release of Francisco Cortés and the two Bolivian citizens Claudio Ramírez and Carmelo Peñaranda, who were imprisoned with Cortéz for having, out of solidarity, given him refuge from the constant death threats against him from illegal armed groups in Colombia, due to his social work as a campesino leader.
Although the two Bolivians accused of terrorism will now be released, public prosecutor René Arzabe said just hours ago that there are at least 45 coca growers and leaders involved in such illegal activities. These words are a harbinger that stories of terrorism, armed revolt, drug trafficking, and organized crime will continue in this country, located in the heart of the American continent.
Lea Ud. el Artículo en Español

Narco News is funded by your contributions to The Fund for Authentic Journalism. Please make journalism like this possible by going to The Fund's web site and making a contribution today.

- The Fund for Authentic Journalism
For more Narco News, click here.