A Letter from Amy Casada-Alaniz
"In the Factory of Journalism… with a Head-full of Dreams"
By Amy Casada-Alaniz

2004 Narco News Authentic Journalism Scholar
May 25, 2004
Hi folks,
My name is Amy Casada-Alaniz, and I am entering the 2004 class of the Narco News School of Authentic Journalism. I'm a real American girl raised in Ohio with a head-full of dreams. I write you now with my sincerest thanks.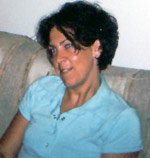 To make a contribution to support Amy Casada-Alaniz's scholarship, use this link.
As my new classmates and freelance journalists from so many lands also know, it's tough to get paying work in journalism, and tougher to get what the universities call a journalism education without paying tens of thousands of dollars. If you want to report inconvenient truths, rather than simply tell your bosses what they want to hear, it becomes even tougher. As the single mom of three kids, two classes shy of my Bachelor's degree at Antioch University, I thought I didn't stand a chance.
And so last year, I went to work interpreting and translating in a plastics factory where Styrofoam is made by machines in sheets pulled like taffy and rolled into 450 pound units and lifted onto other machines where it is rolled out and warmed and molded and cut into to-go boxes for restaurants and paper plates for dollar stores and insulation for buildings. This is an interesting process, making Styrofoam things. I was taught to hate Styrofoam at college, but I learned to respect and care for it in the factory.
When I first walked into this place, I wore a skirt suit and pumps and carried a clipboard. The mostly Mexican people I worked with thought I was from Spain with my blue eyes and hybrid-Bolivian accent. Mexicans & Central Americans are everywhere here. They used to only come to pick the tomatoes and then leave to work other fruits or vegetables here or in Michigan or to go home to Mexico or Texas border-towns. Now more often they stay and make families and work in Styrofoam and wood pallet factories and in hotels and restaurants. Many of the men who still travel alone work in Chinese restaurants from 10am to 10pm and live with Chinese and Malaysian and Thai people. They rest one day a week when they walk to Laundromats and convenient stores. They eat and drink with their Asian housemates and learn to speak some hybrid Chinese. But I want to talk more about Styrofoam….
At this factory where I walked in my pumps and my clipboard, I was charged with interpreting the workers' re-training sessions (in the Spanish language of the immigrant workers which make up half of the forming and packing crew) and translating training paperwork, safety paperwork, and "human resources" paperwork. I was lucky to get the gig: the woman who did my taxes was wife of the general manager of the plant, and he had had a hard time finding someone to do this work because everyone wanted, he said, too much money. I had never had my own contract but was always sub-contracted to interpret, usually in court. We were a good deal to each other it seemed. As we collectively grew in consciousness of each other, we began to notice important differences in perspective that would strain our relationship like Styrofoam sheet pulled too tight, warping and breaking.
For example, I was surprised when production training took precedence over safety training, because a factory produces first and foremost. (On Narco News, I've read frequent references to "the factory of journalism" in a commercial media that appears to suffer from the same problem, and so I'm looking forward especially to the J-School's courses on safety precautions in tough assignments.) I worked from January to October before the management team and I gave up trying to get along. I wasn't yet working full-time then in the factory where my eyes would burn and my head would ache after just spending a few hours among Styrofoam scrap and talc dust and isopentane fumes ("central nervous system depressant. High vapour concentrations may cause headache, nausea, dizziness, drowsiness, confusion, unconsciousness and death"), and fifty years of painted-over filth and gum. My safety glasses strained my eyes. Little foam earplugs caused us to shout, and my throat would hurt when I got home. I couldn't imagine working in this place fulltime until I did, starting the first days of March.
I went to work fulltime at the factory, in the extrusion department, 8pm to 8am twelve-hour nights, the only woman on my shift and the second woman in the department.
The week I started I bought steel-toed boots at a discount store, thinking I would buy better ones later after I got into the union and they would pay part of the price. I gave my pee in a cup. I signed a stack of contracts, but I protested one: it said that I would give permission to my management to search my personal belongings, including my locker or car at anytime, with no provision for any witness. I was taken into the office of my supervisor, formerly equal, with whom I had spent much time consulting. He told me that no one liked the contract, but everyone signed except two people besides me who were notorious troublemakers, and I should not ally myself with them if I wanted to work there. I signed.
In time, I was learning my job, treated well by my male co-workers who reminded me of my family: sensitive, even genius, members of the working class. I watched Styrofoam go through stages of inorganic life, and my reality of the images of life was shifted as I saw this material take on forms so beautiful and strange like deep sea-creatures when it melted down in the pelletizers that take ground scrap and make more manageable pellets of plastic. It burned into colors and strands and sheets like glass. Out of the extruders came globs and nautilus-like growing tubes before these were pulled over a huge head and stretched and pulled along gently to be turned onto rollers. I commented my observations to my co-workers, and we began to collect strange shapes for each other. I even smuggled some home to my children to be used in an art project for school.
Styrofoam kicked my butt when it lay in scrap piles on the floor and tripped me, or when I walked by unwittingly to be cut by the moving sheet or shocked by the static electricity that filled it. I learned to love my job, proud of busted knuckles I covered with tape, and red-ring tired eyes I covered with cheap sunglasses, and dirty jeans with my utility knife and other tools wearing marks into my back pocket. I learned to use heavy tools and to drive a forklift and to climb up and down 45 feet on ladders onto silos to measure contents. Then I stood up for one of the troublemakers' causes. I stood up to a line-leader subbing on my shift for a "lazy" guy (a grandfather working for twelve dollars an hour after three years of service), who was so smart and good at his job I said he could afford to work less hard. I said I felt safe with him during the dangerous machine start-ups when explosions and fires could happen and often did. I said we are not doing brain surgery here: no one's life is depending on our production, though at times our lives and limbs might be at risk from careless over-doing-it. This incident was reported to management, but I was never directly confronted because of it.
Then, earlier this month, I complained again… about a computer-done translation of a tornado evacuation plan. The translation made no sense, and I wrote a note I stuck to it.
That was when I got a letter from Al Giordano saying that my application had been accepted for this year's Narco News J-School. And by cosmic coincidence, I was fired from the Styrofoam factory the very next day.
I thought I was a factory worker. Narco News is telling me that I'm an "authentic journalist," that even factory workers can and should be journalists, and that journalists have been turned into a species of exploited factory worker. (I suppose that I must think so as well, since I applied for this scholarship for the 2003 J-School in Mexico and didn't get it, and, stubborn as the Styrofoam that I made until few days ago, I applied again in 2004, and here I am, writing to you on the pages of Narco News.)
I was fired for correcting a bad translation. And yet that's what Narco News does every day: correct the poor translation by English-language journalists reporting on events in Latin America. Narco News is the inconvenient note on the machine-generated translation. English-language readers of Latin American news are in the exact same position that Spanish-speakers were in at the factory: left vulnerable to changes in the weather, when the winds form tornadoes that take a sudden turn toward us. If we don't correct the false or poorly told news reports from neighboring lands, it's just like that sign at the factory: The tornado is much more likely to harm us and others.
Now I'm working in a restaurant where I've worked many times before, glad that at least it is summertime soon, so I will see my kids whom I would otherwise only see in passing on their ways in from school and mine on my way out to work. My mother and grandmother care for them while I work. I am looking and hoping for a better job. I still interpret and translate whenever and wherever I am called to do it.
My family hopped the briars between Kentucky and Ohio to leave coalmines and hollers and the lack of jobs in steel mills on the river to come to the factories of Dayton. I was simultaneously taught to forget that and to never forget that. Now, it is for my babies who share this trench with me that I push myself to do my best. My babies and I help each other to stay awake in this overgrown garden of dreams, a war of weeds. I share my visions to remember and to never forget their roots in the red clay earth of river valleys here and southerly. Forsaking dreams, I wish to honor an almost eight-year-old boy who is a vision of an intellectual superhero; a five-and-a-half year-old girl who is a vision of a tiny ballerina-ninja; and a just three-year-old boy who is a vision of a comic swashbuckler-lover. I also honor a vision of me: a briar-hopper-made-intellectual fighting to make my existence real and known to the world outside, a mother wishing not to train but to teach my children to cooperate and coexist acknowledging their unique perspectives and those of all the people who resist dreaming except for the visions they somehow choose, awake to the climate that may nurture or try to starve them.
Narco News has a vision well realizing its place in reality. It is a vision to tell truth from different perspectives, sharing in a collective vision of truth and reality, wherein the autonomy of individual and groups of people from all different places and walks of life is respected. Putting our perspectives one alongside the next is necessary and good. In this way we see a thing from different angles.
One vital way you can support this collective vision is financially. Economics have always been used to quiet the voices and visions of us in the trenches. With your help Narco News can pursue its work and vision of a cooperative, honest reality.
That is why I write to you today: to ask that you lend a hand for this year's class of Authentic Journalism scholars, each with visions and potential from our own roads and lands. The Fund for Authentic Journalism, which supports the work of Narco News, its journalists, and its scholars, is in the middle of a fund drive. It needs to raise another $6,300 dollars by June 21st, so that the J-School can fulfill its destiny for the 2004 session, and folks like me can develop a keener understanding of the drug war battles in our América, from the coca-growing lands near Cochabamba, Bolivia, and sharpen our skills at investigating and telling you the stories and bringing you the authentic news that the machine-generated translations fail to do.
You can make out a check to "The Fund for Authentic Journalism" and send it to:
The Fund for Authentic Journalism
P.O. Box 71051
Madison Heights,

MI 48071 USA
Or you can make a donation online at:
http://www.authenticjournalism.org/
And I can participate, too… mustering all my worth to contribute… teaching my babies that every one of us has both the right and responsibility to speak out and share our visions in pursuit of an América we can live in with dignity and real liberty and justice for all.
Thanks again,
From
Amy Casada-Alaniz
To make a contribution to support Amy Casada-Alaniz's scholarship, use this link:
To make a contribution to support all of the 2004 scholars, and the ongoing work of Narco News, use this link: http://www.authenticjournalism.org/
Narco News is funded by your contributions to The Fund for Authentic Journalism. Please make journalism like this possible by going to The Fund's web site and making a contribution today.

- The Fund for Authentic Journalism
For more Narco News, click here.