A Humanitarian Mission Hopes to Win Pacho Cortés's Freedom
If the Bolivian Government Does Not Release the Colombian Social Leader, It Will Face a Global Campaign
By Alex Contreras Baspineiro

Narco News South American Bureau Chief
June 9, 2004
La Paz, Bolivia: If the Bolivian government does not free Francisco "Pacho" Cortés and other coca-growers' leaders – imprisoned for more than a year with no evidence under charges of terrorist acts and armed revolt – there will be soon be a global campaign for their release, announced French Farmers Federation leader José Bové today.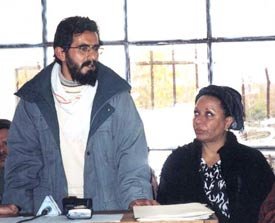 Francisco Cortés with Colombian senator Piedad Córdoba in San Pedro Prison
Photo: Alex Contreras Baspineiro, D.R. 2004
"We are all Pacho," said Bové, part of an international humanitarian mission holding a series of events in Bolivia to press for the release of political prisoners.
Members of the mission met with President Carlos Mesa today, to whom they delivered a letter from social activists and organizations all over the world. They explained to Mesa their concern over the case of the accused terrorists – people who are, in reality, political prisoners.
"If Pacho Cortés is not freed, we are going to organize a campaign at an international level, to denounce the existence of political prisoners in Boliva," said Bové, a well-known anti-globalization leader.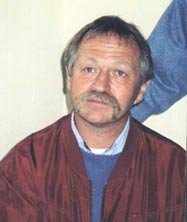 French Farmers' Federation leader José Bové
Photo: Alex Contreras Baspineiro, D.R. 2004
As a result of the meeting with the president, a committee will be formed consisting of the Vice Minister of Justice, the Ministers of the Presidency and of Indigenous Affairs, representatives of the humanitarian mission, and the defendants' attorneys.
This committee must produce a report about Pacho's case, as well as those of the other imprisoned coca-growers.
Yesterday, Bové, together with Rafael Alegría of Vía Campesina ("Farmer's Path"), Joao Sergio of the Brazilian Landless Workers Movement, Colombian senator Piedad Córdoba, Colombian citizens Gloria Flores and Belén Tórres, and Pacho's son Andres visited Pacho in San Pedro prison.
The visit was very emotional, and was followed by a press conference from the prison.
Injustice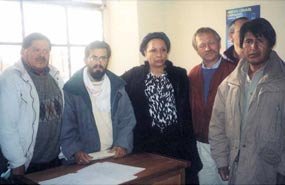 Rafael Alegría, Pacho Cortés, Piedad Córdoba, José Bové and imprisoned coca grower Marcelino Jancko
Photo: Alex Contreras Baspineiro, D.R. 2004
Rafael Alegría, from Honduras, said he is confident that Cortés will be released soon – not only because of the "openness" that President Mesa showed in their meeting, but also because there is absolutely no evidence of Cortés's involvement in acts of terrorism.
Alegría called out for the Bolivian justice system to act according to the country's own constitution, and not to external or internal pressures. It is known that public prosecutor René Arzabe and Judge Carlos Sánchez Castelú traveled to Colombia today. Why? To try to buy witnesses to testify against Cortés?
Belén Tórres, a leader in Córtes's National Association of Peasant Farmers, of Colombia, could not finish her speech without crying. Senator Piedad Córdoba said that she had never been in prison, but that she had been kidnapped, and thus understands her countryman's predicament.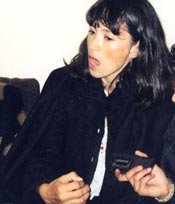 Belén Tórres, leader of the Colombian National Association of Peasent-Famers
Photo: Alex Contreras Baspineiro, D.R. 2004
Daniel Escalera, an imprisoned coca grower from Bolivia's Chapare region, denounced what he said was an unjust arrest, and said that he had only just met Pacho in jail. Coca growers' leader Marcelino Jancko, jailed for his supposed relationship with Cortés, said that he has never been involved in illegal activities, and that he didn't understand until now the level of injustice committed against the poor.
Jancko's voice broke, and he could only cry as he sat with the representatives of the humanitarian mission. Many of them cried with him.
Pacho told his visitors how he was detained on April 10, 2003, more than fourteen months ago.
He said that despite the lack of any formal charges against him, his conscience is clear, because he is only a peasant-farmer organizer and human rights activist. He said he would continue those activities, whether it be from jail or as a free man.
After this public event, attended by many media representatives, the members of the humanitarian mission met privately with Pacho Cortés.
Intervention
Erick Altamarino, Cortés's defense attorney, condemned a trip to Colombia by a Bolivian public prosecutor and judge, saying their goal was to gather evidence against Cortés.

Pacho's son, Andrés Cortés, in Pacho's prison cell
Photo: Alex Contreras Baspineiro, D.R. 2004
"The state prosecutor's office says that it has no resources to investigate (Yerko) Kukok (the Bolivian ex-Chief of Staff accused of stealing hundreds of thousands of dollars in public funds) or (deposed ex-president Gonzalo) Sánchez de Lozada. We don't understand with what resources they are now traveling to Colombia. We suppose the funds are being provided by the U.S. Embassy."
Altamarino estimates that the State has spent more than $100,000 in fourteen months trying to link the prisoners to supposed terrorist acts.
In a conversation with Narco News, he said that this trip demonstrates that "there is money to buy witnesses and make people with no moral authority testify" against the unjustly imprisoned human rights activist.
The representatives of the humanitarian mission also participated in workshops and discussions on the criminalization of social movements, and held meetings with leaders from various trade unions and social and political organizations.
Lea Ud. el Artículo en Español

Narco News is funded by your contributions to The Fund for Authentic Journalism. Please make journalism like this possible by going to The Fund's web site and making a contribution today.

- The Fund for Authentic Journalism
For more Narco News, click here.