Then Came the Humans
The Zapatistas Refine the Revolutionary Art of Listening
By Al Giordano

Special to The Narco News Bulletin
September 6, 2005
"He who proposes assumes responsibility." – Caravana Para Todos Todo ("Everything for Everyone")
DOLORES HIDALGO, AUTONOMOUS MUNICIPALITY OF SAN MANUEL, CHIAPAS, MEXICO, SEPTEMBER 2005: Then came the humans.
This past weekend, for the first time in the twelve years since the Zapatista Army of National Liberation (EZLN, in its Spanish initials), human beings without organizational affiliation were handed the microphone. It marks an evolution in Zapatista history. And it results to be a profoundly revolutionary act.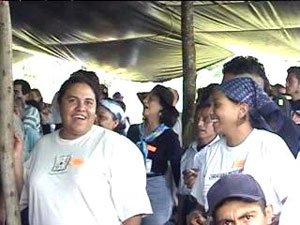 Under the big tent: 700 Mexican citizens sing the National Anthem – and then the Zapatista Hymn – at the start of the meeting of people without organizations.
Photo: D.R. 2005 Francisco Alvarez Quiñones
"For years when we entered Zapatista lands the first question we were asked was 'what organization are you with?' recalls Dolores Camacho Velasquez, an independent documentary filmmaker and investigator at the national university (UNAM) in Chiapas who was camped out with the rest of us 700 visitors this weekend. This time it was different. The Zapatistas opened the doors specifically to those men and women, elders, boys and girls, that are not part of political, indigenous, social, non-governmental, artistic, collective or other organizations that the rebels have convened this summer to collaborate in the next offensive: the "Other Campaign" in which the Zapatistas will, presumably soon, leave the jungle and the highlands and crisscross the Mexican Republic in search of "those who have something to tell us about struggle."
After all, who knows more about struggle than the isolated individual or family without organizational title or protection? Take Ernestina Dominguez Vargas, for example, an ambulant seller of wares on the streets of Mexico City, who came all the way to these mountains last weekend, "on behalf of my children and family." She is one of millions of Mexicans who struggle each day to put food on the table but do not count with a store or a factory or a plot of farmland to work. Like many, she thus sells items on the street. The ambulantes are moved and pushed around by cops and Mafioso organization leaders (who want to wet their beaks with a percentage of the proceeds, and often use violence and force to get it) alike. They move from sidewalk to sidewalk with neither protection nor rights. Like so many others throughout this and all lands they, quite literally, are looking daily for a place to stand in this world. "My kids talk a lot about Marcos and the Zapatistas," Ernestina told the assembled, including fifteen masked members of the Zapatista Commission formed to organize the Other Campaign. "We are of the color of the earth and that's why we've been Zapatistas since 1994."
But for twelve years these folks and millions like them have either had to join organizations to be able to participate in the Zapatista cause, or they've been relegated to mere spectators that stood on the sidewalks, watched and cheered as a Zapatista Caravan passed through their town or neighborhood.
"Those of us who wake up, who go to work, who work all day, who hurry home from work, who go to sleep, who wake up, who go to work again," explained Marco Antonio Avendaño of the city of Puebla, a husband and father of two, when he got his turn at the microphone, expressing a desire for some kind of organizing packet or manual for how to participate in Other Campaign, "don't always have the time to think peacefully about what to do."
That there are so many people who are likewise overwhelmed and isolated by the daily fight for survival is an inconvenient fact that makes a lie of "democracy" as it is practiced in Mexico and elsewhere in our era. The right to participate means little or nothing to he and she that are robbed of the time or space from which to act. And those of us who are fortunate enough to have – sometimes as a result of having fought for it ourselves, but often, also, by luck of the draw, and often due to privilege – a small or large amount of time or space with which to participate in history too often are blind to the realities of the slavery that plagues a majority of people on this earth and denies them the same opportunity.
In activist circles (and among journalists, too, of course) it is in fashion to complain about how political parties deform their participants and turn them into something less than human. And yet few seem to see how most forms of organization – including "progressive" activist organization – also take their toll on the humanity of the participants. The organization of humans is a technology, and like any other it is inherently vulnerable to abuse at the hands of those who seek power over others. How many times have each of us encountered some activist or committee that became a gate-keeper between us and our sacred right to participate, to not be mere spectators of our own histories?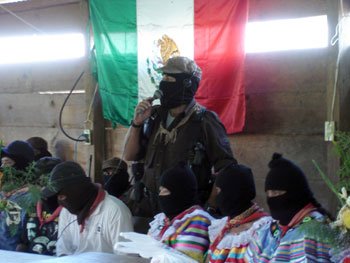 Photo: D.R. 2005 Mitchell Anderson
This is the experience of so many who came to Zapatista lands this weekend to exercise, at long last, her and his desire to speak directly to the rebels and their Subcomandante Marcos without middlemen filtering their word. More than a few tears were shed from the microphone. Indeed, at moments, the proceedings seemed to resemble a kind of gestalt therapy session: twelve (and more) years of silence exploded from the hearts and tongues of human beings. Anyone who was there to listen – not everybody, but a greater percentage than those who attended
last week
, for sure – could not help but to be deeply moved and inspired.
There were also some notable presentations from individuals who are part of organizations and acknowledged themselves as such. In the coming days Narco News will publish the transcript of the presentation by the Colectivo Libertad, one of the most coherent to emerge from any of these meetings about where to take the fight from here. But, for the purposes of this story, we're going to listen to the individuals without organization.
For here were the most excluded of the excluded: the individual women and men who do not even fit in the organizations of the dispossessed. And in the kind of poetry that is Zapatismo, their status as outsiders reveals them to be closer to the majority of Mexicans and citizens of the earth than those who often claim to be their representatives. These people need the Zapatistas. But, as importantly, the Zapatistas need them. These individuals are closer to the masses that the rebels seek to hear and mobilize than organizations ever can be. Uncorrupted by organization, these people are the bridge between the jungle and the mainstream.
Humanity In All Its Colors and Ages
The diversity of participants during this meeting that invited "women, men, elders, boys and girls, individuals on behalf of themselves, family, community, street, barrio or neighborhood" was beautiful to this observer. It was a new move for Zapatismo to convoke such people. It marked, without a doubt, a high point in eight years of journeys here. Here is a small glimpse of what some of them had to say.
Cual Dominguez Badillo, from Veracruz, walked up to the microphone. He read aloud a letter than he and another citizen had authored to the Zapatistas. "We see on TV all the promises the presidents make. But the Zapatistas show us that they are not keeping their promises," he said. Cual is nine years old. "We are kids who adhere to the Sexta," he said, in a reference to the Sixth Declaration of the Lacandon Jungle, inviting the Zapatistas to come to his school "and have a conversation."
When Ricardo Sanchez's turn came, the eternally patient and gracious EmCee of these 20 hours of testimony, Authentic Journalist Eugenia Gutiérrez of Rebeldía magazine, at first didn't see him. She called out his name again, and then noted that he was already behind the microphone stand, which was taller than him. He's a kid from Mexico City, maybe 10 or 11 years old. His comments were brief and to the point: "We have the right to be listened to by you, and by everyone else. That is all I wanted to say."
A woman in her twenties by the name of Abril spoke. "I would have liked to represent my family here but instead I will now go back to them and report about being with you," she said, then launching into a poetic story of her own evolution as a human. "In my adolescence I didn't trust anybody. And I mean nobody. By 14 or 15 I didn't know who I was. We were totally bombarded by TV and its messages trying to tell us who we should be. And if I don't know who I am, well, I don't know why I am here on earth." In the end, her story brings her to the present, to this mountain in the Mexican Southeast. "Thank you and the Zapatista army for letting me speak. Because although I am very nervous, I am less nervous than any other time I've had to speak in public, in school or anywhere else."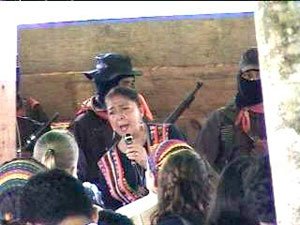 Photo: D.R. 2005 Francisco Alvarez Quiñones
Some, like Maria Eugenia Torres Echeverría of Mexico City, attended this meeting in the form of letters that friends – like Evelia Gutiérrez González, in this case – came and read for them. Her letter spoke of urban problems such as "the abuse of drivers and of pedestrians" but it also spoke of abuses by organizations of the Left that have impeded and frustrated her own participation. And in a candor distinct from the testimonies on behalf of organizational representatives during previous meetings here in the jungle, she named names. She recounted how she had tried to involve herself in organizations to support the Zapatistas, but felt pushed aside not only by the professional activists of the Democratic Revolution Party (PRD in its Spanish initials, the current favorite punching bag in pro-Zapatista circles) but also the Frente Popular Francisco Villa (the "Panchos," who were here in Dolores Hidalgo two weeks ago for the meeting of social organizations) who, she recounted, would send "protagonists of political
groupuscules
" to the meetings to try to take over and dominate the agendas of Zapatista solidarity efforts.
It struck your correspondent that only individual citizens without organizational title speak so honestly about such reflections. Indeed, in previous meetings organization reps have not offered criticism, by name, to other organizations in the Zapatista soup, however deserving such scrutiny may be. After all, the activist Left can be a vicious Jurassic Park of rivalries and vengeances and today's criticism – however constructively offered – often becomes tomorrow's opposition to your own – and your organization's – participation.
Organizations – and their spokespersons – in general detest criticism and consider it, when offered, to be an unfair attack (unfair or not, it can often be true and worthy of response, but genuine response is rarely offered). Not so with the Zapatista Army of National Liberation, but this over-sensitivity to criticism is still woefully the dominant tendency among organizations in solidarity with the EZLN, and in social movements in general. Related, and even more counterrevolutionary, is the widespread incapacity of activist organizations (and their activists) to engage in self-criticism: to ask others and them selves whether their efforts are effective (or counter-effective) or how they could be more so. But the individuals without title that spoke at this Zapatista meeting constituted a breath of fresh air in the revolutionary duty of self-criticism. The aforementioned Evelia Gutiérrez González, for example, spoke of her desire to organize her neighbors to participate in the Zapatista Other Campaign but confessed her disadvantage of not knowing many of them. "How can I organize my community if I don't know it?" she admitted, then pledging, "I have work to do. I promise to do it."
"This is a space," noted Blanca Estrella Ruíz, one of the last to speak in this 20-hour parade of speech, "where people commit ourselves with our word."
Indeed, the proceedings took on a ritual tone, a kind of solemn swearing, where once the word is spoken it then transforms into a commitment to do the work. Here, more than in the previous two meetings we observed, your correspondent had the feeling that he was seeing the future of Zapatismo.
Fear of Marcos
The trappings of mythic celebrity and its double-edged sword have always been a paradox with the Zapatistas and their poet-warrior spokesman Subcomandante Marcos. Each of these meetings begins with his entrance, on horseback or on foot, with other masked men and women. Then comes the "rock star moment" when the Commercial Media and its paparazzi wrestle with the rest of those with video and photographic cameras to get the perfect portrait.
In our report of last week's session (the "youth meeting") we observed how much some participants seemed to be trying to impress the Zapatistas and particularly Marcos with their self-referential discourses. Almost nobody from the organizational meetings offered criticism to Marcos and the Zapatistas. Not so here. While the tears and evident nervousness among some speakers revealed both awe and fear of the masked avengers, in the spirit of the Sexta, many of these individuals without title overcame their fear and criticized everything from the Zapatista decision to wear masks to the fact that their letters over the years have not been personally answered.
Sure, there were some presentations that treated Marcos more like a guru, or a political boss, than a fellow human in struggle for justice, freedom and democracy. One of the first speakers on Saturday began by thanking the Zapatistas for listening to her – "women aren't always taken into account" – but then swiftly got to another point altogether: noting that the Zapatistas have a soccer game planned with the Italian pros of the Inter-Milan, she pleaded that the rebels invite her son to play with them there.
On the other end of the spectrum were calls for more purity from the Zapatistas: the usual placing of the indigenous up on a pedestal higher than mere mortals can reach. Octavio Limón, from Guanajuato, opined that sporting events are mere spectacle, and begged the rebels not to participate in the same Inter-Milan soccer tournament: "Don't play that game, Zapatista chiefs."
A particular bone of contention that stuck out at various points during the proceedings (and at times in the previous weeks' meetings) was the apparent incredulity among some that here on Zapatista lands many of the locals like to drink Coca-Cola. Sheesh. Unlike virtually everywhere else in this hemisphere, the Zapatistas already forsake booze and drugs, there are almost no televisions, there is no such thing as a privately-owned car in these communities (of any make or model), even bicycles are shared, and these indigenous farmers live largely off the land. But many folks from homes, towns and cities that have all those things – TVs, cars, alcohol, marijuana or prescription pills (because most have one or the other), and the rest of the consumer pantheon of gods – seemed genuinely bothered to find Coca-Cola drinkers in a place where they expect to find saints.
Some (including longtime pro-Zapatista actress Ofelia Medina) called for boycotts of Coca-Cola and other consumer products. Some urged healthier alternatives like homemade soft drinks made from chocolate and honey. Not one of these "shopping police" offered to truck in potable water for a cheaper price than a Coke (here, a can of Coke costs 3.5 pesos whereas a bottle with the same volume of drinking water costs 5 pesos). None of these folks offered to make this mythical chocolate-and-honey refreshment, or even brought a canteen of lemonade for free distribution. But they want the Indians to be pure, purer than they are.
One man went so far as to stand up and ask Subcomandante Marcos to refrain from smoking his pipe, claiming some unsubstantiated benefit for the environment if he were to do so. Marcos – who had remained listening passively for most of the 20 hours of interventions – pointed his index finger toward the sky and shook sternly it back and forth as if to say "no way."
Perhaps in response to these and other discourses that tried to tell the Zapatistas how to do their own thing, at the end of the meeting Marcos reminded all that the rebels rose up in arms twelve years ago so that "nobody never again will come to tell us what we can and can't do."
Others still, in the authentic spirit of Zapatismo, turned a mirror on the Zapatistas, asking the same respect from them.
"Stop Satanizing Us"
The Radio Sabotaje host known as Ioni Eléctrico addressed the gathering on Saturday night speaking in his capacity as an individual. "We smoke marijuana," he said of he and his friends that have been in this Zapatista fight for many years now. "Generally we toke up about four times a day. But when we come to Zapatista territory, we come totally clean. We've heard that others have come and hid their toke or their flask of alcohol, but not us. We respect the rules here."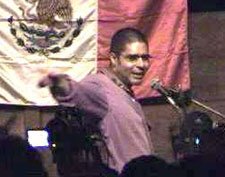 Ioni Eléctrico of Radio Sabotaje
Photo: D.R. 2005 Francisco Alvarez Quiñones
"But I want to say that there have always been speeches and statements here by the Zapatistas and others – we've heard them today – Satanizing drug users," he continued. "This is a very deep discussion that we're not going to have today but I want to tell you that we always have to listen to this. We take drugs to expand our minds. The narco is rich not because of us but because of how society sees and makes laws against drugs. These are lifestyles. For the Zapatistas without drugs and for those of us with them, these are our lifestyles. We want respect. We're not saying 'smoke and be healthy.' We just don't think we ought to be Satanized for smoking it ourselves."
In other words, he was sticking that same index finger in the air as Marcos had exhibited in response to the demonization of his own tobacco smoking, and shook it to say: Nuh-huh! ¡Ya Basta! Enough Already!
While it is possible that during the twelve years of Zapatismo someone else may have said this to the compañeros and compañeras in a public forum, this was the first time your correspondent had heard or seen it. After all, when only "representatives of organizations" were allowed to speak, who would have dared say it? And yet, how overdue it was that those words, too, cried out to be spoken.
The question of drugs and alcohol may be one of the most delicate matters the Zapatistas who leave the rebel lands will have to adjust to when they come out of the jungle and into the rest of the nation. They will be entering a society awash – for better and for worse – in the "fourth human instinct" of intoxication (after hunger/thirst, sleep, and sex). To what extent will those whom they visit and listen to have to adhere to the Zapatista laws of inside the jungle? Will the homes where the Zapatista delegates stay have to have their liquor cabinets cleared out? Will the delegates of the Other Campaign enter bars or restaurants where alcohol is served? Will those, like Marcos, who smoke tobacco enter places where smoking is banned? When it comes to drugs (including Coca-Cola, which is, after all, the commercial drink company with the monopoly on legal use of the Andean coca leaf) there are two sides of every leaf.
Our colleague from Radio Sabotaje – proving that marijuana smokers take a backseat to nobody in terms of strategic intellect and ability – also offered some very sharp suggestions regarding the upcoming Other Campaign. "We've heard various calls to boycott the elections," he said. "But they are limited to the question of whether one votes or not. That's a very narrow view of it. Polls say that 'most' people support this guy or that guy. That's nonsense. Most people could care less about any of it. A true boycott of the elections involves what takes place before Election Day. It would involve investigating and telling the public where all the money is going in these campaigns, exposing the hidden parts of the process to the public."
Waiting for the Hangover
A related and interesting phenomenon came in the expressions by various individuals who came here this weekend to confess that they had left the PRD party. Indeed – speaking about drugs – electoral politics is a drug that predictably leaves many in a wretched and sometimes repentant state on "the day after."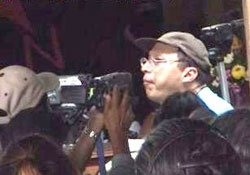 Arturo Lomelí
Photo: D.R. 2005 Francisco Alvarez Quiñones
One of them, Oscar Moreno Corzo, had been a top consultant to Chiapas governor Pablo Salazar (an ex-PRI member elected by a
PRD
-PAN coalition) and a member of the state governing council of the Democratic Revolution Party. After the state party challenged the national party on various matters and lost, he left the
PRD
. Others from various parts of the country came and confessed the same: they had been in the
PRD
but have recently resigned. "Where do these people go?" asked historian and filmmaker Arturo Lomelí (whose analysis enriches Narco News' reporting for the third week in a row). "When people have been excluded, or have excluded themselves, from the
PRD
– a party that originated as that of those excluded from the
PRI
– what is left for them except to come and join here?"
As the electoral campaign marches on (and to a greater degree if PRD candidate Andrés Manuel López Obrador wins the presidency of Mexico in 2006), more and more militants are likely to either leave or to be boxed out of the party structure. There are only so many congressional seats and jobs to go around. And particularly, as the PRD brings in a growing exodus of PRI members and those from other parties, as it will, if it becomes a government, and as it makes its concessions and deals with other powerful interests, many from its own rank-and-file membership – especially those of conscience – will end up losing the game of musical chairs when the music stops. There will be more disillusion than ever. What the Zapatistas are constructing here is a gigantic place for those people, too, to come and renew themselves and their places to stand in this Mexico and this world.
Two weeks ago, in his opening words to the meeting of social organizations, Marcos noted that:
"Electoral campaigns will begin and will be what they have been until now, a pathetic exhibition of advertising spots. The 'Other Campaign' will begin before that, continue after it, and exist simultaneously. Electoral campaigns come to an end. The 'Other Campaign' will continue. The elections will happen. The 'Other Campaign' will continue. There will be a change in government. The 'Other Campaign' will continue. The hangovers and disillusions will come. The 'Other Campaign' will continue. Maybe then and only then the 'Other Campaign' will be seen for what it tries to be: the construction of 'something else,' something that, like everything that surges from below and from the left, seems impossible at the beginning."
Contrast this process with what occurred in Brazil in 2002 with the election of longtime leftist and union leader Lula da Silva of the Workers Party (PT, in its Portuguese initials). Virtually the entire Brazilian left joined in Lula's campaign and celebrated his election. And many (if not most) of its best operatives and organizers then received jobs in the government. Who was then left, on the outside, to push and pull the Lula government as it made policy? The right wing, the other political parties, the business interests (domestic and foreign) and the US and European Embassies: that's who.
Today, three years later, there is widespread disillusion with the Lula government and its manifold concessions to big business and to global capitalism by those who are of the Left. Some are still inside the government but are dependent on their paycheck and thus remain silent. Those on the outside are disorganized and without a place to stand. Prior to the Zapatista 'Other Campaign,' this is where Mexico was headed with the popular campaign of López Obrador.
One need only to understand that history to grasp why Marcos and the Zapatistas have so powerfully polarized the Left, in part by hurling acid invective at the PRD and its candidate, the one they call "the other one without name," in a boat-rocking comparison of López Obrador to his nemesis, former Mexican president Carlos Salinas de Gortari.
In drawing this line in the sand, the Zapatistas have more than done their duty of warning of the danger that a López Obrador government could surpass even the "left handed neoliberal administration" of Lula in Brazil and become – as the Zapatistas termed it in a June communiqué, "the new model of a non-national state." They have created a space for all who worry about that co-optation of the Left to stand together and fight, no matter who is Mexico's next president. And by using harsh language and insult such as calling López Obrador "a serpent's egg" they have also called out to the vast majority of the citizenry that has faith in no political party, in no candidate, that is already disillusioned with the entire process.
Many of those people were here on Zapatista lands this weekend.
As Mercedes Guadalupe of the Tlaluac area of Mexico City exclaimed: "This community here is so far from my house! The PRD is closer to home, but they don't listen."
Listening as a Revolutionary Duty
Sometimes it is on the small matters that the larger fault lines reveal themselves. It was that way on Sunday in this Zapatista community, with that pesky can of Coca-Cola again becoming the soccer ball to be kicked around in a polemic.
Photo: D.R. 2005 Francisco Alvarez Quiñones
A 21
-year-old man from Nezahualcóytl (a gigantic working-class and poor city of 1.2 million residents – more than 19,000 per square kilometer – in the state of Mexico that borders Mexico City; something akin to, say, the Bronx in relation to Manhattan) named Alejandro Castro took his turn at the mic, and used the Coca-Cola polemic to talk about some wider problems, such as that of water.
"In an urban area like Mexico City and environs, all drinking water is bottled, or we have to disinfect it," he said. "It is often easier to spend five pesos on a Coke than 10 pesos on a bottle of water."
He then analyzed some possible consequences of a Coca-Cola boycott that perhaps those who proposed it to the Zapatistas had not considered: "Maybe instead of drinking Coke we will drink lemonade. So we will go to the wholesale fruit market and buy lemons. The 'coyotes' (wholesalers), however, don't pay the farmers a fair price for them, so we'll still be participating in exploitation. And what of all the sugar farmers that will go unemployed when Coca-Cola is no longer buying their sugar?"
There was a noticeable hubbub from parts of the audience. One attendee shouted (errantly), "Coke doesn't even use real sugar!" (While true of the soft drink in the United States, under Mexican law soft drink bottlers must use Mexican sugar instead of the plutonium-fructose chemistry found North of the border with such refreshments.) Others even tried to shout him down. (Once again, the delicate questions surrounding a drug turn otherwise rational people into hysterical hyenas.)
A woman from Mexico City named Marilu rose soon after that episode and scolded the audience: "It is very grave when someone speaks here and there are people in the audience mocking him."
And yet, all in all, of the three meetings your correspondent has so far covered here, this one, of individuals instead of organizational representatives, showed significantly more common interest in listening to "the other" than the previous sessions. The protests and pleadings by various participants to others that they listen better – drawing more attention to the unspoken fact that people in this day and age are, generally, very poor listeners – were part and parcel of the improvement.
In last week's report, your correspondent wished aloud that Marcos would show some "tough love" toward those who come to these sessions to speak but do not listen well to the others. Be careful what you wish for…
"Hell Awaits Proposals Not Based on Listening"
In his closing comments to this weekend's session, Marcos returned to the issue of listening. He repeated – as he has said countless times since the 'Other Campaign' was announced – that the Zapatistas are coming out not to speak but to listen. "We are not coming out to listen to everybody," he said, "but to the humble and simple people who fight, because we want to learn from them."
Already noted on these pages is the uncanny patience and attention the Zapatista Commission has shown during these meetings, sitting for hours on end to listen, in the heat but in ski masks. It is also notable that not one of the 15 commission members drank so much as a cup of coffee or water during the proceedings, and not one excused him or her self to go to the bathroom. The self-discipline and commitment shown establish a moral high ground when it comes to the subject of listening.
Marcos noted that there will be one more meeting like this one next weekend: for everyone from any one of the previously convened categories – political, indigenous, social, non-governmental, artistic, cultural and collective organizations, as well as individuals like those heard from this weekend – and that then on September 16 (Mexican Independence Day) will begin a marathon plenary session to determine what course of action to take. While specifics have not been offered, it has been strongly implied that there will be decisions to be made and agreed to by all present: decisions about when the Zapatistas embark into the rest of the country, and with whom, taking what route, and according to Marcos, "how do we listen to the people."
On the 16th, he announced, "this business of you over there and us over here comes to an end." He said it with weight in his voice, perhaps a tinge of nostalgia; the Zapatista rebellion is nearing the end of an era, and about to embark on a new stage of the struggle that "will not look like" any of the previous mobilizations or incursions into national territory. Twelve years of national meetings in the Lacandon Jungle may now have come to a close.
Zapatista supporters and Authentic Journalists of the world: A revolutionary has a duty, above all, to listen. Put in those hearing aids, kind readers. On September 16th, here in the Lacandon Jungle, will begin the meeting – it could last for many days – in which the assembled will debate and decide, with the Zapatistas, the next leap forward. But Marcos warned on Sunday that "hell awaits" any proposals not informed by the revolutionary art of listening.
Click here for more Narco News coverage of Mexico
Lea Ud. el Artículo en Español

Narco News is funded by your contributions to The Fund for Authentic Journalism. Please make journalism like this possible by going to The Fund's web site and making a contribution today.

- The Fund for Authentic Journalism
For more Narco News, click here.