Dillon, Read & Co. Inc. and the Aristocracy of Prison Profits: Part II
Narco Dollars in Mena and LA, Insider Deals at Dillon Read and Massive Mortgage Fraud in HUD related to Iran-Contra
By Catherine Austin Fitts

A Six-Part Series for The Narco News Bulletin
March 1, 2006
This is Part II of Catherine Austin Fitts' six-part series on the hidden system of money laundering, drug trafficking and rigged stock market riches inside the financial world, government agencies and their private contractors. To read the introduction and Part I of this series, with a table of contents linking to other installments, click here.
Narco Dollars in the 1980s — Mena, Arkansas
During the 1980s, a sometime government agent named Barry Seal lead a smuggling operation that delivered a significant amount of narcotics estimated to be as much as $5 billion from Latin America through an airport in Mena, Arkansas.[1] According to investigative reporters and researchers knowledgable about Mena, the operation had protection from the highest levels of the National Security Council then under the leadership of George H.W. Bush and staffed by Oliver North. According to investigative reporter and author Barry Hopsicker, when Seal was assassinated in February 1986, Vice President George H.W. Bush's personal phone number was found in his wallet. Through Hopsicker's efforts, Barry Seal's records also divulged a little known piece of smuggling trivia — RJR executives in Central America had helped Seal smuggle contraband into the U.S. in the 1970s.[2]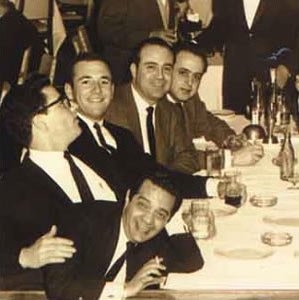 Cover of Barry & 'the boys' with Barry Seal (third on left) with

CIA

colleagues in 1963.[3]
The arms and drug running operation in Mena continued after Seal's assasination. Eight months later, Seal's plane, the "Fat Lady," was shot down in Nicaragua. The plane was carrying arms for the Contras. The only survivor, Eugene Hassenfuss admitted to the illegal operation to arm the Contra forces staged out of the Mena airport. Hassenfuss' capture inspired Oliver North and his secretary at the National Security Council to embark on several days of shredding. The files that survived North's shredding that were eventually provided to Congress contain hundreds of references to drugs.
An independent counsel was appointed to investigate the concerns raised by Hassenfuss' capture. As described in my article, "The Myth of the Rule of Law," the founders note written by Chris Sanders, head of Sanders Research states:[4]
"The investigation resulted in no fewer than 14 individuals being indicted or convicted of crimes. These included senior members of the National Security Council, the Secretary of Defense, the head of covert operations of the

CIA

and others. After George Bush was elected President in 1988, he pardoned six of these men. The independent counsel's investigation concluded that a systematic cover up had been orchestrated to protect the President and the Vice President… During the course of the independent counsel's investigation, persistent rumors arose that the administration had sanctioned drug trafficking as well as a source of operational funding. These charges were successfully deflected with respect to the independent counsel's investigation, but did not go away. They were examined separately by a Congressional committee chaired by Senator John Kerry, which established that the Contras had indeed been involved in drug trafficking and that elements of the U.S. government had been aware of it."
There is a standard line you hear when you try to talk to people in Washington, D.C. about the flood of narcotics operations and money laundering in Arkansas during the 1980s. "Oh, those allegations were entirely discredited," they say. This is not so. Thanks to numerous journalists and members of the enforcement community, the documentation on Mena drug running and the related money laundering is quite serious and makes the case that the government was engaged or complicit in significant narcotics trafficking. This includes the various relationships to employees of the National Security Council, the Department of Justice and the CIA under Vice President Bush's leadership and to then Governor of Arkansas, Bill Clinton and a state agency, the Arkansas Development and Finance Agency (ADFA). ADFA was a local distributor of U.S. Department of Housing and Urban Development (HUD) subsidy and finance programs and an active issuer of municipal housing bonds. One of its law firms included Hillary Clinton and several members of Bill Clinton's administration as partners, including Deputy White House Counsel Vince Foster and Associate Attorney General Webster Hubbell.
Those convicted and pardoned by President Bush included former Bechtel General Counsel, Harvard trained lawyer Cap Weinberger who as Secretary of Defense had presided over one of the most crime-ridden government contracting operations in U.S. history.[5] Forbes editor James Norman left Forbes in 1995 as a result of Forbes refusal to publish his story "Fostergate," about the death of Vince Foster and its relationship to the sophisticated software, PROMIS, allegedly used to launder money, including funds for the arms and drugs transactions working through Arkansas. Norman's story allegedly implicated Weinberger in taking kickbacks through a Swiss account from Seal's smuggling operation. In other stories, the software was considered to be an adaptation of PROMIS software stolen from a company named Inslaw and turned over to an Arkansas company controlled by Jackson Stephens. An historical footnote to our story is that a later study of the prison industry shows that Jackson Stephens' investment bank, Stephens, Inc., was the largest issuer of municipal bonds for prisons.
Some of the most compelling documentation on Seal's Mena operation and related money laundering was provided by William Duncan, the former Special Operations Coordinator for the Southeast Region of the Criminal Investigation Division, Internal Revenue Service at the U.S. Treasury. The U.S. Treasury fired Duncan in June of 1989 when he refused to dilute or cover up the facts in Congressional testimony.[6] [7] Since it is illegal to lie to Congress, this is the equivalent of being fired for refusing to break the law, and in the process, protecting a criminal enterprise.
The Secretary of the Treasury when Duncan was fired was Nicholas F. Brady, former Chairman of Dillon Read. Brady left Dillon in September 1988 to join the Reagan Administration in anticipation of Bush's victory in the November elections. Duncan was fired within months of two important events detailed later in the story:
the

RJR

Nabisco takeover made famous by the book, Barbarians at the Gate: The Fall of

RJR

Nabisco by Brian Burrough and John Helyer (Harper & Row, 1990) as well as a later movie by the same name, and


Lou Gerstner, now chairman of the Carlyle Group, joining

RJR

Nabisco to make sure that the aggressive management was in place to pay back billions of new debt issued in the takeover.
As we will see later in our story, the inability to stop Duncan from documenting the corruption at Mena and the U.S. Treasury emphasized the importance of placing control of the IRS and its rich databases and information systems which illuminated flows of money in friendlier hands.
Narco Dollars in the 1980s — South Central, Los Angeles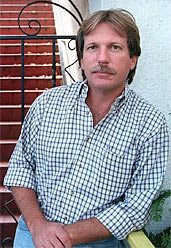 Gary Webb
Photo courtesy NewsMakingNews.com
Gary Webb's
"Dark Alliance"
story documenting the explosion of cocaine coming from Latin America into South Central Los Angeles during the 1980s was originally published by the
San Jose Mercury News
in the summer of 1996 and then published in book form in 1998. The story and its supporting documentation was persuasive that the U.S. government and their allies in the Contras were involved in narcotics trafficking targeted at American children and communities.
All the usual suspects did their best to destroy Webb's credibility and suppress his story. This included the Washington Post, which had pulled Sally Denton and Rodger Morris' story on Mena at the last minute in 1995 — leaving it to run later in the summer in Penthouse Magazine. Luckily, Webb had arranged to have significant amounts of legal documentation substantiating his story posted on the San Jose Mercury News website. By the time that the News was pressured to take the story down, thousands of interested people all over the world had downloaded overwhelming evidence. Thanks to the Internet, the crack cocaine Humpty Dumpty could not be put back together again.
Mike Ruppert is a former Los Angeles Police Department narcotics investigator who was run out of LAPD after declining an offer from the CIA to protect their Los Angeles narcotics trafficking operations. After being accosted by Ruppert and the threat of his formidable evidence in support of Webb's story in a town hall meeting in South Central Los Angeles in November 1996, then Director of the CIA, John Deutsch promised that the CIA Inspector General would investigate the "Dark Alliance" allegations.
This resulted in a two volume report published by the CIA in March and October of 1998 that included disclosure of one of the most important legal documents of the 1980s — a Memorandum of Understanding (MOU) between the Department of Justice (DOJ) and the CIA dated February 11, 1982 in effect until August 1995.[8] At the time it was created, William French Smith was the U.S. Attorney General and William Casey, former Wall Street law partner and Chairman of the SEC was Director of the CIA. Casey, like Douglas Dillon, had worked for Office of Strategic Services (OSS) founder Bill Donovan and was a former head of the Export-Import Bank. Casey was also a friend of George Schultz. Bechtel looked to the Export-Import Bank to provide the government guarantees that financed billions of big construction contracts worldwide. Casey recruited Stanley Sporkin, former head of SEC Enforcement, to serve as general counsel of the CIA. When Schultz joined the Reagan Administration as Secretary of State, such linkages helped to create some of the personal intimacy between money worlds and national security that make events such as those which occurred during the Iran Contra period possible.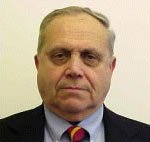 Stanley Sporkin,

CIA

General Counsel during Iran Contra
Photo courtesy Gavel Consulting
No history of the 1980s is complete without an understanding of the lawyers and legal mechanisms used to legitimize drug dealing and money laundering under the protection of National Security law. Through the
MOU
, the
DOJ
relieved the
CIA
of any legal obligation to report information of drug trafficking and drug law violations with respect to
CIA
agents, assets, non-staff employees and contractors.
[8]
Presumably, this included the corporate contractors who, by executive order, were now allowed to handle sensitive intelligence and national security outsourcing.
With the DOJ-CIA Memorandum of Understanding, in effect from 1982 until rescinded in August 1995, a crack cocaine epidemic ravaged the poorer communities of America and disenfranchised hundreds of thousands of poor people into prison who, now classified as felons, were safely off of the voting roles. Meantime, the U.S. financial system gorged on what had grown to an estimated $500 billion-$1 trillion a year of money laundering by the end of the 1990s. Not surprisingly, the rich got richer as corporate power and the concentration of investment capital skyrocketed on the rich margins of state sanctioned criminal enterprise.
Yale Law School trained Stanley Sporkin was appointed by Reagan in 1985-86 to serve as a judge in Federal District court, leaving the CIA with a legal license to team up with drug dealing allies and contractors. From the bench many years later, he helped engineer the destruction of my company Hamilton Securities while preaching to the District of Columbia bar about good government and ethics. He retired from the bench in 2000 to become a partner at Weil, Gotshal & Manges, Enron's bankruptcy counsel.
Gary Webb died in 2004, another casualty of an intelligence, enforcement and media effort that keeps global narcotics trafficking and the War on Drugs humming along by reducing to poverty and making life miserable for those who tell the truth. At the heart of this machinery are thousands of socially prestigous professionals like Sporkin who engineer the system within a labyrinth of law firms, courts and government depositories and contractors operating behind the closely guarded secrets of attorney client privilege and National Security law and the rich cash flows of the U.S. federal credit.[9]
Leveraged Buyouts

George Roberts and Henry Kravis, Christmas 1995. Roberts and Kravis were significant donors to the Republican Party.
Photo courtesy Kohlberg, Kravis and Roberts

Leveraged buyouts were a phenomenon that got going in the 1980s. A leveraged buyout (LBO) is a transaction in which a financial sponsor buys a company primarily with debt — effectively buying the target company with the target's own cash and financial ability to service the debt. As described in

Barbarians at the Gate: The Fall of

RJR

Nabisco

at pages 140-141:
"In 1982 an investment group headed by William Simon, a former treasury secretary, took private a Cincinnati company, Gibson Greetings, for $80 million, using only a million dollars of its own money. When Simon took Gibson public 18 months later, it sold for $290 million. Simon's $330,000 investment was suddenly worth $66 million in cash and securities… By 1985, just two years after Gibson Greetings, there were 18 separate

LBO

's valued at $1 billion or more. In the five years before Ross Johnson [RJR Nabisco Chairman and

CEO

] decided to pursue his buyout,

LBO

activity totaled $181.9 billion, compared to $11 billion in the six years before that.

"A number of factors combined to fan the frenzy. The Internal Revenue Code, by making interest but not dividends deductible from taxable income, in effect subsidized the trend. That got LBOs off the ground. What made them soar were junk bonds.

"Of the money raised for any LBO, about 60 percent, the secured debt, comes in the form of loans from commercial banks. Only about 10 percent comes from the buyer itself. For years, the remaining 30 percent — the meat in the sandwich — came from a handful of major insurance companies whose commitments sometimes took months to obtain. Then, in the mid-eighties, Drexel Burnham began using high-risk "junk" bonds to replace the insurance company funds. The firm's bond czar, Michael Milken, had proven his ability to raise enormous amounts of these securities on a moment's notice for hostile takeovers. Pumped into buyouts, Milken's junk bonds became a high-octane fuel that transformed the LBO industry from a Volkswagen Beetle into a monstrous drag racer belching smoke and fire.

"Thanks to junk bonds, LBO buyers, once thought too slow to compete in a takeover battle, were able to mount split-second tender offers of their own for the first time."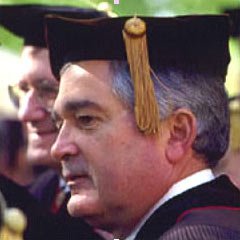 Lou Gerstner, former Chairman of

RJR

Nabisco, giving the Commencement Speech at Brown University in 1997 at the same time that John Birkelund was a Brown Trustee and Brown was an investor in Dillon's private prison company, Cornell Corrections.
Photo courtesy Brown University
In a highly leveraged company, the equity owner does not really have control. It's the bondholder or creditor who can put the company in default. With the dirty tricks available from covert "economic hit" teams combined with a creditor's ability to throw a company in default, who needs to be a visible owner? Unmentioned was the ease and elegance with which junk bonds made it possible to take over companies with narco dollars and other forms of hot money financed by powerful partners hidden behind mountains of debt.
There emerged a growing number of attractive business savvy investment firms vying to be the owners of record for a growing number of companies taken private in leveraged buyouts. This included Kravis, Kohlberg and Roberts (KKR), the LBO firm that took over RJR Nabsico in 1989 in one of the most visible takeovers of the decade, documented by Barbarians at the Gate. Dillon Read represented the RJR Nabisco board on the transaction. While the bidding war between KKR and the management group lead by Ross Johnson teamed with Shearson Lehman escalated, I remember being dumbfounded as to why anyone thought that RJR Nabisco could service the proposed amounts of debt. In later years as I read reports that the debt was being serviced, I wondered what magic tricks KKR had that us mere mortals were missing. In reading Barbarians at the Gate, it turns out they managed to win despite not having the highest bid on all bidding rounds. One wonders the extent to which the bidding process was reengineered to ensure a KKR win and the media manipulated to make it look like the board had reasons to favor KKR over management other than the real reasons.
Years later, reading between the lines of the European Union lawsuit, it struck me that perhaps KKR had simply sheltered one of the world's premier money laundering networks and, behind the veil of a private company, taken this network to a whole new level. In that same period, they recruited Lou Gerstner from American Express to run the more aggressive, more leveraged RJR. The lawsuits filed by the European Union against RJR allege that top management, including during the time Gerstner led the company as CEO, directed RJR's illegal activities. When the European Union said "highest corporate level" and "officers and directors," that meant Lou Gerstner — and through Gerstner and the board, the controlling shareholder, KKR.
Successful at RJR, Gerstner left to revitalize IBM and was then knighted by Queen Elizabeth. After retiring from IBM, Gerstner was chosen to chair the Carlyle Group in Washington in late 2002. The European Union's lawsuit highlights Gerstner's deeper qualifications to revitalize IBM, one of the most powerful military and intelligence contractors, and to lead an LBO firm like Carlyle that built its business on military and intelligence contractors and the intelligence to which such contractors are privy.[10]
Henry Kravis and George Roberts were two of the founders of KKR. Kravis' father — successful in the Oklahoma oil and gas business — was reported to be a friend of the Bush family and had many close ties with Wall Street. Henry Kravis and his San Francisco cousin and partner, George Roberts were said to be generous supporters of the Bush campaign.
It was inconceivable to me that KKR could have won the RJR Nabisco bidding war despite lower bids without Vice President George H. W. Bush in the White House (having just won the election) and/or Nick Brady at Treasury exercising their invisible hand. Bush's White House counsel, Harvard educated C. Boyden Gray (now partner at Wilmer Cutler) was heir to one of the many North Carolina RJR fortunes. When the bidding team led by Ross Johnson, then CEO of RJR Nabisco lost to KKR, I wondered, did Nick finally get Ross Johnson back for diluting Dillon Read's RJR lead underwriting business after the merger with Nabisco in 1985?
When Nick Brady first got to Treasury, he was apparently slow to staff and organize his public affairs office. Before leaving Wall Street in April of 1989 to join the Bush Administration, I used to get calls from reporters looking for basic background, including his bio. One reporter asked me if I thought Brady was tough enough to survive in Washington's treacherous waters. I responded that, "Yes, Brady did have a genteel manner. However, the world was littered with the bodies of the men and women who had underestimated Nick Brady."
A Parting of the Ways
There was an invisible spirit that crept through our lives on Wall Street in the 1980s. LBO's were a part of it. I could never quite put my finger on what was wrong. It was as if there was too much dirty money and, as it grew more and more powerful in invisible ways, the way companies were financed, bought and sold grew progressively more out of control. The common sense and humanity seemed to drain out, and as personal wealth of the insiders grew, so did the lies.

Catherine Austin Fitts, Managing Director and Member of the Board of Directors of Dillon, Read & Co. Inc., 1988.
Photo courtesy Catherine Austin Fitts
Part of what was happening within Dillon Read was the difference in styles between Nick Brady and John Birkelund. When Nick wanted me to do something, he would come and say something like: "Look, I need you to do this and stop doing that and I can't tell you why. I just need you to be a good soldier and do it." And his candor had a certain charm to it and so in the spirit of being a good soldier you would give up on some deal or idea you thought was going to be a moneymaker. For some reason, Birkelund did not feel comfortable taking this straightforward approach and so situations would get caught up in complex pretzels of office politics.
For example, when the Dillon Read partners sold the firm in 1986 to Travelers, three years after buying our stock back from Bechtel, Birkelund came to my office to ask me what I thought of the deal. I told Birkelund that it was a done deal and that my opinion as one of the newest partners was irrelevant. Birkelund insisted — he really wanted to know. I told him that I was disappointed that we were no longer owners and that I thought a large insurance company would not prove to be a good business fit. He exploded with rage and stomped out of the office. Minutes later, my husband Geoffrey — a successful Wall Street attorney — called to tell me that he had just had a call from Fritz Hobbs, one of the senior Dillon partners, saying that Birkelund told him that I had resigned from the firm and that he, Geoffrey, needed to exercise some control of his wife. I explained that I had not resigned. I then advised Geoffrey to call Fritz and persuade him that he had managed to get me under control, to assure him that I had not and had no intention of resigning and that he, Geoffrey, could be counted on to make sure that I supported the sale and the changes contemplated. Hence, my partners could look to my husband to manage me. I then spent several weeks collaborating with Geoffrey on the manipulation of me — which turned out to be a remarkably effective, though unorthodox, communication vehicle.
My back channel[11] was compromised several weeks later when Ken Schmidt, the head of Dillon's municipal department who Birkelund had also assigned to "manage" me while I managed a large and profitable client and deal flow, broke down one night after several drinks and confessed that he and my other partners were using my husband to manipulate me. Perhaps he would not have felt as guilty if he realized where Geoffrey was accessing his strategies.

Senior Dillon Partner Peter Flanigan, shown here at the Rainbow Room with Catherine at Christmas time in 1988, later became the one of the largest personal Dillon investors in private prison company Cornell Corrections.
Photo courtesy Catherine Austin Fitts
After the sale of Dillon to Travelers, we put together significant Travelers financial support for our
LBO
business. Birkelund called me to his office to ask me if I would take the lead on marketing our
LBO
's to bond buyers. This request caught me off guard, as I was confident that this was a role in which I would not be successful. I asked why he thought I was appropriate. He described my success at designing and marketing $4 billion of New York City transportation systems bonds. This was a deal that nine firms had said could not be done but that had gotten done quite successfully with Dillon Read's leadership, making the first page of the
New York Times
and the financial press. I explained to John that I could sell deals that I had personally structured and which I believed to be sound credits because they were based on some fundamental wealth-creating purpose that would ensure the bond buyers were paid back. However, a lot of the LBOs flowing through Wall Street were not based on sound financial engineering and involved companies that were of dubious value. I was terrific with Dillon's investment clients when I believed in a credit. Unless I was personally confident in the investments long-term viability, I was not effective at selling it.
John thought I was being difficult and I was amazed that he could not understand that just as fish don't fly, I did not have the ability to do a good job for the firm at this task. It was as if two parallel universes were trying to communicate and failed. One was looking to go with the flow of more and more government and corporate debt without thought for how future generations would pay back all this debt — what some of us called the debt bubble — because that was the way to win at the game of hot money profits. The other thought that money served a strategic purpose and that flipping people and companies like pancakes for quick profits was risky business.
Things came to a head when I arrived at the weekly banking meeting of the Dillon Read partners one morning in 1988 and listened to Steve Fenster, one of the partners who had joined us in 1987 from Lehman Brothers with an interim stint at Chase, make his presentation on why Dillon's LBO group should take the second position behind First Boston in the Campeau hostile takeover of the Federated Department Stores.[12] During his presentation, Fenster, later a professor at the Harvard Business School, presented a "sources and uses of funds" statement. This is a statement that estimates where the money is coming from to buy the company and how it will be spent and in what amounts. Steve described a significant source of funds would come from "productivity improvements" — a portion of what was needed to fund the cost of hundreds of millions for golden parachutes for senior management and fees for lawyers and investment bankers.
The "productivity improvements" were the increased profits to be generated by middle management over many years — all without partaking of the hundreds of millions pork fest enjoyed up front by senior management and Wall Street. We would get rich and get out up front. The guys in the trenches would work like dogs for years for scraps if the deal were to work. I was stunned. I asked Steve why in the world middle management would stick around and spend years working to generate increased profits without adequate incentives. After all, these financials would be disclosed in SEC filings. The companies' middle managers would read the proxy and could "walk with their feet." This meant the company would fail.
If the company failed before we sold new bonds, the Travelers bridge line that we were using would lose millions. If it failed after we sold the bonds, our customers who bought the bonds would get left holding the bag. Fenster looked at me in disgust and said something to the effect of "we will be out in December," meaning if the deal tanks it will be someone else's problem. I responded "Steve, our bond buyers won't be," meaning that Dillon would be selling the securities to pension and mutual funds and other bond buyers who would then take what could be millions in losses. By this time, Brady had left for Washington and Birkelund was now in command of the firm. Birkelund was trying to build a fortune. Nick had one to protect. It struck me that the balance that the Brady-Birkelund partnership had somehow managed to strike between playing to win in the hot money game and not putting Brady's personal reputation at risk was gone. Dillon anticipated significant fees and Fenster and the partners around the table were hungry for the quick bucks of big year-end bonuses.
That was when I decided that we might be losing sight of the line between financial engineering and financial fraud. I left the boardroom and headed downstairs to make a call to Washington, D.C. There was nothing else to learn at Dillon Read. It was time to go — I was too much a member of the old school. Other firms had indicated an interest in recruiting me. However, I had promised Nick I would institutionalize my clients and not strip the business from the firm. The way to continue to do that was to join the incoming Bush Administration in Washington, D.C. The corruption was bad, a crash was coming and Washington would lead the clean up. Besides, the corruption was being engineered in part through Washington. I wanted to understand how the economy and markets really worked. It was long my dream to find ways that investors could profit from activities which increased human and environmental safety and wealth. I needed to understand how the federal government and credit worked.
When the Federated Department Stores declared bankruptcy on January 15, 1990 as a result of their takeover by Campeau using an unsound financial structure, Dillon Read, Travelers and Dillon's bond buyers were left holding millions of badly discounted securities. By that time, I was Assistant Secretary of Housing-FHA Commissioner at HUD managing billions of defaulted mortgages and coordinating with the group at the Resolution Trust Corporation who were managing billions of defaulted savings and loan (S&L) mortgages. While Birkelund and Fenster were explaining the Campeau-Federated defaults to Travelers, I was learning why Oliver North allegedly referred to HUD as "the candy store of covert revenues."[13] It took years of cleaning up the mortgage mess to understand that this homebuilding and mortgage fraud was an integral part of the National Security Council's shenanigans during Iran-Contra and a U.S. federal debt that was growing at alarming rates.
Catherine Austin Fitts is the author of the Narco News series "Narco-Dollars for Beginners: How the Money Works in the Illicit Drug Trade." She is a former managing director and member of the board of directors of Dillon Read & Co, Inc, a former Assistant Secretary of Housing-Federal Housing Commissioner in the first Bush Administration, and the former president of The Hamilton Securities Group, Inc. She is currenly president of Solari, Inc., an investment advisory firm (in formation) based in Hickory Valley, Tennessee.
Next in Part III: Her time as Assistant Housing Secretary gives the author a front-row seat to the corruption of a federal government in league with big business and finance. Also, after leaving the Bush administration and re-entering the business world, she watches as her former firm, Dillon Read, goes into business with Cornell Correction, a prison contractor that seems to be bankrolled with both big oil and drug trafficking money.
Footnotes
[1] Barry & "the boys": The CIA, the Mob and America's Secret History, Dan Hopsicker, MadCow Press, 2001. According to Hopsicker, on the same day, the CIA repossessed Barry Seal's Lear Jet. It turns out that it was theirs all along. Seal had signed a series of promissory notes on the Lear jet in 1982 totaling $1.8 million — twice what the plane was worth. Hopsicker says "this puzzled us until we learned, from former CIA pilot Morgan Hetrick that this was Standard Operating Procedure, allowing "the boys" to express their displeasure by taking away your toys at will." Hopsicker describes the attorneys for one of the assassins saying that the assassins alleged that Oliver North arranged the hit to assassinate Seal.
[2] Page 459, Barry & "the boys": The CIA, the Mob and America's Secret History, Daniel Hopsicker, MadCow Press, 2001. Useful links on Mena include:
[3] See Daniel Hopsicker's description of this picture in Was Bush Spy Pick on Agency Hit Team? — CIA Nominee in Pic of Agency's 60s Assassination Squad and page 26 of Barry & "the boys": The CIA, the Mob and America's Secret History, Daniel Hopsicker.
[4] Chris Sanders, Sanders Research Associates, founders' note to "The Myth of the Rule of Law," by Catherine Austin Fitts http://www.solari.com/gideon/q301.pdf
[5] Blank Check, by Tim Wiener (Warner Books, 1991)
[6] Testimony of William Duncan, Hearing before the Commerce, Consumer, and Monetary Affairs Subcommittee of the Committee on Government Operations, House of Representatives, One Hundred Second Congress, First Session, July 24, 1991. Excerpts from pages 64-73, 85-86, http://www.whatreallyhappened.com/RANCHO/POLITICS/MENA/
testimony_of_william_c._duncan_7-24-91.html
[7] Misconduct by Senior Managers in the IRS, Twentieth Report by the Committee on Government Operations, House of Representatives, One Hundred First Congress, Second Session, October 4, 1990, excerpts from pp. iii, 117-131. http://www.whatreallyhappened.com/RANCHO/POLITICS/MENA/duncan.html
1991 Affidavit by William Duncan http://prorev.com/wwduncan.htm
[8] From Congressional Record (07 May 1998) [Page: H2970]
Ms.

WATERS

. Mr. Chairman, this amendment would call for a review of the 1995 memorandum of understanding that currently exists between the Director of Central Intelligence and the intelligence community and the Department of Justice regarding reporting of information concerning Federal crimes.

This amendment is very simple and non-controversial. It calls for a review of the current memorandum of understanding to ensure that drug trafficking and drug law violations by anybody in the intelligence community is reported to the Department of Justice. Specifically, the review would examine any requirements for intelligence employees to report to the Director of Central Intelligence and any requirements for the Director to report this information to agencies.

This information would be reported to the Attorney General. The review would be published publicly. This simple amendment fits well with the recent calls for a reinvigorated war on drugs. The need for this amendment, however, cannot be understated.

One of the most important things that came out of the hearing of the House Permanent Select Committee on Intelligence was an understanding about why we did not know about who was trafficking in drugs as we began to investigate and take a look at the allegations that were being made about the CIA's involvement in drug trafficking in south central Los Angeles and the allegations that profits from that drug trafficking was going to support the Contras.

We discovered that for 13 years the CIA and the Department of Justice followed a memorandum of understanding that explicitly exempted the requirement to report drug law violations by CIA non-employees to the Department of Justice. This allowed some of the biggest drug lords in the world to operate without fear that the CIA would be required to report the activity to the DEA and other law enforcement agencies.

In 1982, the Attorney General and the Director of Central Intelligence entered into an agreement that excluded the reporting of narcotics and drug crimes by the CIA to the Justice Department. Under this agreement, there was no requirement to report information of drug trafficking and drug law violations with respect to CIA agents, assets, non-staff employees and contractors. This remarkable and secret agreement was enforced from February 1982 to August of 1995. This covers nearly the entire period of U.S. involvement in the Contra war in Nicaragua and the deep U.S. involvement in the counterinsurgency activities in El Salvador and Central America.

Senator Kerry and his Senate investigation found drug traffickers had used the Contra war and tie to the Contra leadership to help this deadly trade. Among their devastating findings, the Kerry committee investigators found that major drug lords used the Contra supply networks and the traffickers provided support for Contras in return. The CIA of course, created, trained, supported, and directed the Contras and were involved in every level of their war.

The 1982 memorandum of understanding that exempted the reporting requirement for drug trafficking was no oversight or misstatement. Previously unreleased memos between the Attorney General and Director of Central Intelligence show how conscious and deliberate this exemption was.

On February 11, 1982, Attorney General French Smith wrote to DCI William Casey that, and I quote, this is what he said:

[Page: H2971]

I have been advised that a question arose regarding the need to add narcotics violations to the list of reportable non-employee crimes . . . no formal requirement regarding the reporting of narcotics violations has been included in these procedures.

On March 2, 1982 William Casey responded:

I am pleased these procedures which I believe strike the proper balance between enforcement of the law and protection of intelligence sources and methods will now be forwarded to other agencies covered by them for signing by the heads of those agencies.

My colleagues heard me correctly.

The CHAIRMAN. The time of the gentlewoman from California (Ms. Waters) has expired.

(By unanimous consent, Ms. Waters was allowed to proceed for 3 additional minutes.)

Ms. WATERS. Mr. Chairman, the fact that President Reagan's Attorney General and Director of Central Intelligence thought that drug trafficking by their assets agents and contractors needed to be protected has been long known. These damning memorandums and the resulting memorandum of understanding are further evidence of a shocking official policy that allowed the drug cartels to operate through the CIA-led Contra covert operations in Central America.

This 1982 agreement clearly violated the Central Intelligence Agency Act of 1949. It also raises the possibility that certain individuals who testified in front of congressional investigating committees perjured themselves.

Mr. Chairman, every American should be shocked by these revelations. Given the shameful history of turning a blind eye to CIA involvement with drug traffickers, this amendment seeks to determine whether the current memorandum of understanding closes all of these loopholes to the drug cartels and narcotics trade.

At this time I know that there is a point of order against my amendment. The chairman of the committee is going to oppose this amendment, and so I am going to withdraw the amendment. But I wanted the opportunity to put it before this body so that they could understand that we had an official policy and a memorandum of understanding that people could fall back on and say I did not have to report it. Yes, I knew about it.

We have a subsequent memorandum of understanding of 1995 that is supposed to take care of it. I am not sure that it does.

Mr. Chairman, I submit for the Record the following correspondence between William French Smith and William J. Casey:

*************

Office of the Attorney General, Washington, DC, February 11, 1982.

Hon. William J. Casey, Director, Central Intelligence Agency, Washington, D.C.

Dear Bill: Thank you for your letter regarding the procedures governing the reporting and use of information concerning federal crimes. I have reviewed the draft of the procedures that accompanied your letter and, in particular, the minor changes made in the draft that I had previously sent to you. These proposed changes are acceptable and, therefore, I have signed the procedures.

I have been advised that a question arose regarding the need to add narcotics violations to the list of reportable non-employee crimes (Section IV). 21 U.S.C. 874(h) provides that `[w]hen requested by the Attorney General, it shall be the duty of any agency or instrumentality of the Federal Government to furnish assistance to him for carrying out his functions under [the Controlled Substances Act] . . .' Section 1.8(b) of Executive Order 12333 tasks the Central Intelligence Agency to `collect, produce and disseminate intelligence on foreign aspects of narcotics production and trafficking.' Moreover, authorization for the dissemination of information concerning narcotics violations to law enforcement agencies, including the Department of Justice, is provided by sections 2.3© and (i) and 2.6(b) of the Order. In light of these provisions, and in view of the fine cooperation the Drug Enforcement Administration has received from CIA, no formal requirement regarding the reporting of narcotics violations has been included in these procedures. We look forward to the CIA's continuing cooperation with the Department of Justice in this area.

In view of our agreement regarding the procedure, I have instructed my Counsel for Intelligence Policy to circulate a copy which I have executed to each of the other agencies covered by the procedures in order that they may be signed by the head of each such agency.

Sincerely,

William French Smith, Attorney General.

*********

THE DIRECTOR OF Central Intelligence, Washington, D.C., March 2, 1982.

Hon. William French Smith, Attorney General, Department of Justice, Washington, D.C.

Dear Bill: Thank you for your letter of 11 February regarding the procedures on reporting of crimes to the Department of Justice, which are being adopted under Section 1-7(a) of Executive Order 12333. I have signed the procedures, and am returning the original to you for retention at the Department.

I am pleased that these procedures, which I believe strike the proper balance between enforcement of the law and protection of intelligence sources and methods, will now be forwarded to other agencies covered by them for signing by the heads of those agencies.

With best regards,

Yours, William J. Casey.

Enclosure."
[9] See The Stanley Sporkin Hotseat.
[10] See Dan Briody's The Iron Triangle: Inside the Secret World of The Carlyle Group.
[11] Wikipedia: A back channel in the language of diplomacy is an unofficial channel of communication between states or other political entities, used to supplement official channels, often for the purposes of discussing highly sensitive policy issues.
[12] See http://en.wikipedia.org/wiki/Federated_Department_Stores and http://en.wikipedia.org/wiki/Robert_Campeau
[13] See The Conspirators, by Ret. Cmdr. Al Martin.
Narco News is funded by your contributions to The Fund for Authentic Journalism. Please make journalism like this possible by going to The Fund's web site and making a contribution today.

- The Fund for Authentic Journalism
For more Narco News, click here.