A Week After the Repression in Atenco, Alexis Benhumea's Life Hangs in the Balance
Narco News Obtained the Projectile That Struck the Student and Put Him in a Coma… and Saw That it Was Made in the USA
By the Narco News Road Team

The Other Journalism with the Other Campaign in San Salvador Atenco and Mexico City
May 12, 2006
SAN SALVADOR ATENCO, MAY 4TH, AND MEXICO CITY, MAY 10TH, 2006: Barely a week after the extreme violence and brutality that resulted when five different police forces (3,000 officers) attacked flower farmers from Texcoco and the People's Front in Defense of the Land from the town of Atenco, Alexis Benhumea, economics student at the National Autonomous University of Mexico, is fighting for his life.
Twenty-year-old Alexis, in addition to speaking Russian, was also recently accepted into a second degree program to study Mathematics, in the Department of Science. According to his father, Ángel, he has also spent the last eight years studying classical and contemporary dance six hours a day, and is a passionate Beatles fan.
Alexis remains in intensive care, in a coma, at Zaragoza public hospital. His father, Ángel, and other friends and family, haven't left his side, waiting for any kind of positive news. But it would appear that only a miracle can save the student from the long, agonizing slumber that allows him to hang on to life. Today is Mother's Day in Mexico, and the family's tranquility and serenity are increadible. For the parents of Alexis, and especially for his mother, there is nothing to celebrate. Nevertheless, Alexis's mother received our team of reporters with a sweet, affectionate smile.
From the Universities to Atenco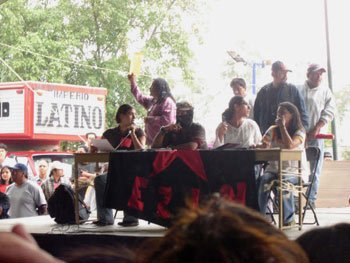 Meeting of adherents in the National Autonomous University of Mexico.
Photo: D.R. 2006 Irving Márquez
The Benhumea family are all, evidently, adherents to the Sixth Declaration of the Lancandon Jungle, and to the Other Campaign.
Ángel and Alexis attended the speech by Delegate Zero (EZLN Subcomandante Marcos) in the main plaza at the National Autnomous University of Mexico, On May 2nd. Ángel spoke as the representative of the Coalition of Administrative and Academic Workers of the UNAM (STUNAM), and Alexis attended as a student.
Later that afternoon, during a meeting between Delegate Zero and students at the Metropolitan Autonomous University, Ángel and Alexis exchanged thoughts and views with the Narco News team. Visibly thrilled by the emerging student movement, and enjoying the early evening breeze, Ángel, who participated in the historic student movements of 1968 and 1971, emphasized the importance of bringing together the Other Campaign with different student groups. "The Sixth Declaration is really happening. The number of different political currents, including those that were once antagonistic, coming together is amazing. Now, we are living through a transition period in which we will all be able to integrate. The fundamental message is clear…The Sixth Declaration is an alternative, an option. The Sixth is an important force in the university, it's the best message." It was his solidarity with others that led to his tragic visit to San Salvador de Atenco, the following night, twenty-four hours later.
From the Long Slumber to the Long Wait
In the early morning hours of May 3rd, while the Battle of Texcoco unfolded, Ángel and Alexis were following the path of the Zapatista caravan around Mexico City. When they heard that the violence had reached Atenco, they began laying plans to travel there and support the Peoples' Front in Defense of the Land. During the tense political rally, in Tlalteloco, it was announced that the Other Campaign had been suspended and the EZLN placed on red alert; father and son headed to Atenco.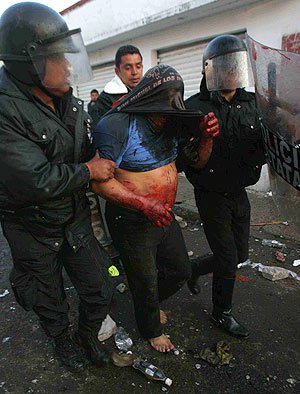 One of the hundreds of detainees in Atenco, May 4th.
Photo: D.R. 2006 Ratón Maicero
That night they stood guard for the community, acting as observers to discourage another round of violence against the town's residents. At 2:00 AM, on May 4th, the first bells began to toll, announcing that the police were on the way. It was a false alarm.
At exactly 6:30 AM, the church bells rang urgently, signaling the arrival of the first state forces. Ángel and Alexis were part of a human wall that activists had formed, to prevent the police from entering on Fresno street, the town's main thoroughfare.
At that moment, according to Ángel: "A contingent of riot police came in, launching thousands of projectiles, followed by "robocops" in highly protective body armor, and after them, a squadron notorious for its skill in tracking down and detaining people. They had dogs trained for searching homes. They were running from house to house, out of their minds, breaking down doors. There were three different squadrons, squadrons with a military level of organization." In an instant, the concept of time and space changed radically for the Benhumeas. Alexis was struck in the head by a tear-gas canister. He fell. His father, who had lost his glasses, carried him away. Alexis managed to stay conscious for 2 to 3 hours.
The long slumber began at the moment that the Benhumeas entered a two-story home, together with 24 other people. Outside: the war. Federal, state, and local police forces unleashed a "true state offensive, with over 5,000 police," described Ángel.
Alexis was wounded on the left side of his head, obviously due to the impact of a metal tear-gas canister, as was verified with the evidence provided by his father. Narco News recovered that same canister from the house where the Benhumeas had been hiding for over 10 hours. The metal surface of the canister, which was made in the USA, reads:
"SPEDE-HEAT CN Long Range – 150 YD 37MM Single Projectile" The brand is: "DEFENSE TECNOLOGY- FEDERAL LABORATORIES" It also says: "17 CN-LR F206CN"; "TO BE USED BY TRAINED LAW ENFORCEMENT, CORRECTIONAL OR MILITARY PERSONNEL. DO NOT USE FOR OPERATIONS AFTER FIVE YEARS FROM DATE OF MANUFACTURE".
The damage on the canister obscures the date of manufacture.
This evidence hasn't been covered in any of the media, and especially not on Televisa or TV Azteca, even when Subcomandante Marcos offered them bullet shells, even after hearing the testimony of the father himself. "The projectiles were being fired more than four feet off the ground; that's shooting to kill, not to disperse. We called for an ambulance, and a medic even came out, but he was detained a block from where we were. It looked like the ambulance was on its way, but it never arrived; they wouldn't let it in. Nothing got into that town, not even air," he said.
Ángel shared with this team of reporters some details about the tense situation they endured inside the home: "After a little while, the most highly-trained police arrived, with their dogs – we thought the dogs would smell us and they'd find us – … the police looked like machines, clearing everything out of their path;" so one of them had to urinate in a bottle and mix it with vinegar. They spread the mixture around all the doors and windows of the two rooms, hoping to throw off the dogs. It worked. They weren't found: "Miraculously, the dogs didn't close in."
The conversation gradually intensified over time, as Ángel talked about the long hours that they had to endure in the house. "Alexis stayed conscious for 2 or 3 hours. He was semi-conscious, but over time his symptoms got worse; he got pale from the loss of blood; it was harder for him to move his limbs, from the impact to his head; he lost the ability to speak; and his heart beat became irregular."
According to the father, everyone in the house grew increasingly desperate, started to panic, fearing that they would be beaten, arrested, or killed. They were dismayed at the sounds of what was happening outside. Some of them proposed leaving the house and surrendering; others wanted to stay inside and wait. But they were worried about Alexis, who was laid out on the floor, with only a bandage around his head. They wanted to find help for him, but the police brutality made that risky. Ángel Benhumea had to make a decision. "I would have preferred to stay in the house and have my son die in my arms, than to have him die at the hands of the police." Nevertheless, on this bleak Mothers Day, and after the slow passage of days, Alexis is still fighting for his life.
While the people took cover, all they could do was to listen as the police beat and dragged others out. Screams could be heard, along with glass breaking, doors being kicked in and more gas being fired. While this was happening, said Ángel, "we were watching the whole operation on television." He mentioned that there were two men with their faces covered who were pointing out which houses to raid from the air and from the ground. He could hear how they beat down the doors trying to clean out the area, and how no one was allowed to escape. "They had us completely besieged, under martial law," he added.
As the afternoon wore on the situation quieted down. Walking the streets of Atenco one could only see a few police, the remains of burnt tires, wrecked cars and garbage. Aside from the smell of teargas and pepper spray, a tense calm was in the air. The ambulance never arrived, but at approximately 5:30 pm people managed to get Alexis to a nearby hospital on a bus filled with journalists from the free and alternative press. Shortly after arriving, Alexis was in surgery.
The Date with History…
Alexis' medical situation that night was one of 30 percent cerebral haematoma (internal bruising) and two exposed skull fractures.
In Ángel Benhumea's view, this was a "state" operation, better referred to as a military operation due to the premeditated organization and preparation on the part of the three levels of government (municipal, state and federal) and the three corresponding political parties. "There was close communication between the ground and the air; between the police and the helicopters," he said. "The helicopters guided the police in terms of analyzing the town's geography. That was how they found the houses and sought out the leaders and people they were looking for."
"The mayor of Atenco (of the Party of the Democratic Revolution, or PRD) handed everything over to the extreme right on a silver platter," he said. "This was an operation carried out by the state, a terrorist state. This is class struggle; we blockade and they fuck us up. We need a national antifascist front."
During the informal chat with these reporters, his need to speak and be heard was obvious.
"People have asked me, was all this worth the cost of your son?" he said, angrily. "Think about the miners at Lázaro Cárdenas. Society has no way out except mobilization. We must stop fascism. What happened to my son was a tragedy and I hope he is all right… it was horrible."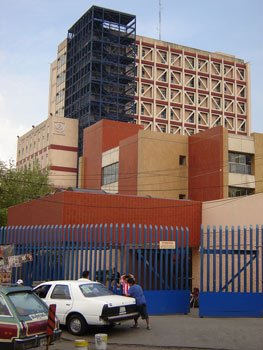 El hospital Zaragoza del Instituto de Seguridad y Servicios Sociales de los Trabajadores del Estado
Fotos: D.R. 2006 Narco News
Ángel's
capacity for expression and articulation
is impressive. He is a complete man, an oak who remains firm despite his internal agony over his son. But outside the hospital, there are other trees who feel solidarity for that oak and sustain him. They are his family: the mother, the sister, Uncle Oscar, friends and comrades that arrive from the struggle.
There have been questions about people like Ángel's decision to go to support the FPDT in Atenco amidst such a big operation. These have included criticism of Subcomandante Marcos and América del Valle — daughter of imprisoned local leader Ignacio del Valle — for having proposed that supporters travel to the scene of the events. Nevertheless, for Ángel, what he and his son did was "show up for an historic date. We couldn't leave the people of San Salvador Atenco alone in that situation." He mentioned once again the Sicartsa miners and the similar struggle they are in.
They're Not Blind, They're Just Wearing Blindfolds…
Alexis' uncle Oscar commented to this team of journalists: "This is something that people need to know, that there are people out there with a social conscience. How great it is that this conscience and social struggle is finally being awakened, that people see that there are others who have nothing to eat. It causes outrage and sadness, but gives us the strength to carry on. The whole family is here, and we are part of them. People are blind, they can't see that a social struggle is taking off, that people are fighting for social welfare."
Someone then said, "no, they're not blind, they're only wearing blindfolds," and Oscar replied, "the time will come when they realize that."
At the moment, Alexis' condition is still serious. He has a double skill fracture with exposed brain material. This afternoon, his doctors evaluated the option of moving him to a better hospital. Alexis had already been on the edge of death and stopped breathing three times. In the end, it was decided that he will stay at this hospital.
During a short interlude from the sadness, the family chatted among themselves about a variety of things. Alexis' mother even smiled in front of us a few times. The confidence they have is unique and invaluable. This mother of three boys, on her special day, with a tranquil look on her face, explained: "I feel a great pain, a great impotence and rage against this government. There is no security. Now they don't even respect the most minimal human rights. This thing they have done, it was not just to one boy, but to all the youth, with the goal of terrifying them. We will see how history repeats itself like in '68, in '71, and again and again."
The Benhumea family and their friends have hope in their hearts. Serenity, patience and kindness are constants in their verbal and physical interaction. But we can be sure of one thing: that the Benhumeas hold a dignified optimism not just for Alexis' struggle to stay alive, but also for the struggle to transform this country called Mexico.
Click here for more Narco News coverage of Mexico
Lea Ud. el Artículo en Español
Lisez cet article en français
Legga questo articolo in italiano

Narco News is funded by your contributions to The Fund for Authentic Journalism. Please make journalism like this possible by going to The Fund's web site and making a contribution today.

- The Fund for Authentic Journalism
For more Narco News, click here.