Friends and Family Say Goodbye to Ollin Alexis Benhumea Hernández
"To Alexis Benhumea, the Dance of Death Will Only Tickle Him," said his Dance Teacher at his Funeral
By Quetzal Belmont

The Other Journalism with the Other Campaign in Mexico City
June 10, 2006
"It seems strange, the way in which we got to know each other at the time of your goodbye. In fact, we never spoke, but your force was present: today, you assuredly dance with wings to keep you flying like an angel."
"Until death, if necessary," is one of the principal credos that is heard today among many social protests.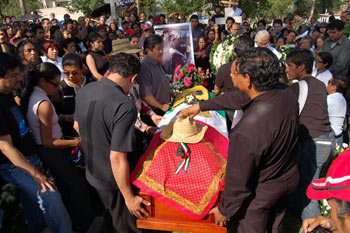 Photo: D.R. 2006 Erwin Slim
The echo of this chant reached Ollin Alexis Benhumea Hernández, who was a student of the School of Economics, about to begin his second major in the Sciences Department, both at the National Autonomous University of Mexico (UNAM, in its Spanish initials).
Alexis, 20, was mortally wounded from the impact of a tear gas projectile to the left side of his skull during the confrontations in San Salvador Atenco last May 4. By that afternoon, when, eleven hours after being struck, he finally received medical attention, he was declared to be in a coma. The police raids and aggression all day in Atenco made it impossible for him to find medical help.
He was hospitalized for more than a month. In the end, a heart attack in the early hours of Wednesday, June 7, caused his heart to stop beating. The prognosis had not been favorable. He had already suffered multiple respiratory failures and, in the final days, was diagnosed with cerebral death.
His body was waked at a funeral home in Mexico City's Colonia Roma. From there, at 1:30 p.m. the next day, Friday, June 8, a caravan of about fifteen vehicles, among them two buses and a microbus, all filled with people and floral arrangements, reached its first destination: the Economics Department where the funeral was held by his coffin.
More than 400 people accompanied Ollin Alexis in the university hall, among them students, townspeople of Atenco, members of the university committee from 1968, members of the UNAM workers union and the Mexican Social Security Institute, as various friends and professors of Alexis said goodbye with their last words to him.
A chorus could be heard, in unison: "Alexis didn't die, the government killed him." The people were visibly moved: tearful eyes, serious faces, and mournful glances between the people, lightly nodding their heads, lamenting one to the other.
"Those who die for life cannot be called dead. Alexis Benhumea, presente. UNAM," were the words on a banner that awaited Ollin in front of the school library, where, according to his friends, Alexis passed hours each day.
Benjamin Anaya, Alexis' professor in the Dance Academy at the National Fine Arts Institute spoke his word, espressing the feelings of the dance community toward this 20-year-old who had performed modern dance for seven years. Benjamin ended his participating saying, "We are together, Ollin. Dance, dance, so that the dance of death will only tickle you."
Also present were members of the Community of Magdalena Contreras, neighbors of the Benhumea Hernández family, who also expressed their condolences and appealed for justice for what had happened and for freedom for the country's political prisoners.
Around 3:30 p.m. the caravan that accompanied Alexis headed to the San Jeronimo cemetery. As the hearse transported him, many people could be seen and heard asking for a space in the cars or buses to say their last goodbye, but they were all full. Although hurried, they made room anyway for these compañeros, and hundreds headed toward the burial.
On the road to the cemetery one could hear, from one vehicle to another, the chants that the people did not stop chanting, some in loud voice, causing the hair stand up on the back of the neck and reminded of what occured on that morning of May 4. Forcefully, they chanted: "A government that kills students is a farce."
Around 300 people laid Ollin Alexis to rest. A musical band followed the procession toward the grave. A priest waited for them to finish before offering his benediction. Alexis' coffin was draped with a Mexican flag, another for the UNAM soccer team, the Pumas, a red-and-gold kerchief, a sombrero and a machete sword from Atenco that the townspeople delivered to his family as a symbol of his struggle and to accompany him along his next path.
Those present, one by one, began to speak, wishing him a good voyage, remembering him as someone who made history in current Mexican politics, recounting the social-political implications of his death, in the context of Atenco, the Other Campaign, and the response by the state and federal governments in all that has happened since the May 3 raid aganst a group of flower growers in Texcoco.
At the moment that his coffin was lowered and covered with dirt, a rain of flowers fell toward Alexis. Chants, cheers, fireworks, and music, with the cries of some people, and the silence of others, could be heard.
Little by little the press and the assembled that accompanied Ollin in his passage toward another life began to leave.
Sergio, friend and fellow economics student of Alexis, said:
"God willing, part of Alexis lives in each one of us."
Click here for more Narco News coverage of Mexico
Lea Ud. el Artículo en Español
Legga questo articolo in italiano

Narco News is funded by your contributions to The Fund for Authentic Journalism. Please make journalism like this possible by going to The Fund's web site and making a contribution today.

- The Fund for Authentic Journalism
For more Narco News, click here.