New Document Provides Further Evidence That Owner of Crashed Cocaine Jet Was a U.S. Government Operative
Signatures Link Florida Pilot Greg Smith to DEA/FBI/CIA Operations in Colombia
By Bill Conroy

Special to The Narco News Bulletin
December 1, 2007
A Gulfstream II jet that crash landed in Mexico's Yucatan Peninsula in late September bearing a load of nearly four tons of cocaine has been linked so far by media and Internet reports to everything, it seems, but alien spaceships.
But Narco News has recently obtained a document that could help you, kind reader, better identify the UFOs (unexplained frequent obfuscations) that seem to hover over this case.
This particular Gulfstream II (tail number N987SA), was used between 2003 and 2005 by the CIA for at least three trips between the U.S. east coast and Guantanamo Bay — home to the infamous "terrorist" prison camp — according to a number of press reports. The suggestion that a "CIA plane" was flying a huge quantity of drugs toward the U.S. ensured that this incident would attract far more attention than the typical drug smuggling story.
Media speculation has also advanced theories that the jet's cocaine payload was destined for the notorious and elusive Chapo Guzman's Sinaloa drug-trafficking organization in Mexico, or that it might have been a deal backed by the Russian mafia, or Lebanese businessmen, or even a business venture tied to the Bush or Clinton camps. All of these theories are just that, ranging from the possible to the highly improbable.
And if not a run-of-the-mill drug run, Narco News has considered previously that the jet might have been part of U.S. law enforcement undercover operation or a trafficking run involving corrupt law enforcers, or even a CIA black operation.
The truth is, at this point, no one really knows — except those who engineered the ill-fated narco-transport. But there are clues, which, like breadcrumbs, can be followed in the trail toward the truth. In this case, those clues include the following:
The plane took off from Ft. Lauderdale Executive Airport headed for Toluca, outside Mexico City, on Sept. 18. It crashed in the hills by the nearby town of Tixkokob, Mexico, on Sept. 24 after departing from Rio Negro, Colombia.

DEA

sources told Narco News that with that much cocaine on board weighing it down, the jet likely would have had to make a refueling stop in Mexico before pushing onto its final destination. Just prior to the crash, the jet was, in fact, refused landing clearance at two airports — in Cancun and Merida — indicating that somehow things went sour, that the deal was not properly greased.
Donna Blue Aircraft Inc., a Florida-based firm controlled by two Brazilian men, acquired the jet on Aug. 30 and then quickly sold the Gulfstream II on Sept. 16 — eight days prior to its crash.
Listed on a bill of sale provided to Donna Blue are the names of two individuals who took delivery of the jet prior to its demise in Mexico. Those individuals are Clyde O'Connor and Greg Smith.
A prior Narco News story revealed that a

CIA

asset named Baruch Vega claims that between 1997 and 2000 an individual named Greg Smith was brought in by the

FBI

to pilot some 25 to 30 flights between Florida and Latin America as part of a U.S. government-sanctioned operation targeting Colombian narco-traffickers. Vega played a key role in that operation, which involved both the

DEA

and

FBI

— working independent of each other with Vega as their common asset.
So it seems Mr. Smith might be a key to unraveling the Gulfstream II cocaine mystery.
More Breadcrumbs
Is the Greg Smith whose name appears on the crashed cocaine jet's bill of sale the same Greg Smith who flew with Vega in antidrug operations some 10 years ago? This was very much an open question in our last report on this story, but we may now have an answer.
Narco News' efforts to contact both Smith and O'Connor have proven unsuccessful to date. But we did manage to track down Joao Malago, one of the owners of Donna Blue, the company that sold the jet to Smith and O'Connor. Malago, who is a Brazilian citizen with business interests in Florida, has some concerns about how his company has been portrayed in certain online new reports to date. He shared those concerns with Narco News via e-mail:
I had some problems when I sold this plane [N987SA] for this 2 guys. Greg Smith and O'Connor bought the plane and ask me to hold the bill of sale for 1 week until they get in Mexico where the plane will be delivery for a Charter Company there. I told him that all the papers will be at Scrow [an escrow] company with the delivery and bill of sale in they name.
This aircraft was delivery at September 16Th 5:00 PM in Fort Lauderdale and they flow the aircraft from there to TOLUCA Mexico.
After 2 weeks they did that flight with drugs. [From all media reports to date, neither O'Connor nor Smith were on the Gulfstream II when it crashed.] The authorities in USA call me and I show all the papers for than and I was never part of DEA/CIA or FBI. Some people told on internet that my company is a CIA cover office and that bring me a lot of problems. First this is not true and you can image if this people came to talk with me. I have family and I dont want any more problems there.
To help clear the air, Malago agreed to e-mail Narco News a copy of the bill of sale that lists Smith's name. The emergence of this document, which has been discussed in other media reports but not make available to you, kind readers, creates an opportunity for a possibly important comparison.
The Smith who Vega claims served as his pilot in his work for the U.S. government is listed as an officer of a Ft. Lauderdale-based company called Aero Group Jets Inc. (Court records obtained by Narco News also support Vega's contention that this company provided a jet to assist Vega's work with the U.S. government between 1997 and 2000.)
In addition, a search of corporation records available online from the Florida Department of State indicates that this same Mr. Smith is listed as an officer for two additional companies with the same address as Aero Group Jets — which is 1995 W. Commercial Blvd., Ft. Lauderdale.
Those other companies are Aero Flight Services Inc. and Jet America Inc.
A search of the Florida Department of State's records also reveals that O'Connor has an even longer record of entrepreneurship, with his name appearing on filings as an officer/director for half a dozen companies based in the Ft. Lauderdale area.
O'Connor and Smith's companies — including Smith's Aero Group Jets — are now inactive or no longer in business, according to state of Florida records.
However, the corporation records for Aero Group Jets do include Smith's signature — from a 1998 annual report filing — which can be viewed at this link.
The bill of sale provided to Narco News by Donna Blue's Malago also includes the signature of an individual named Smith. That bill of sale can be viewed at this link.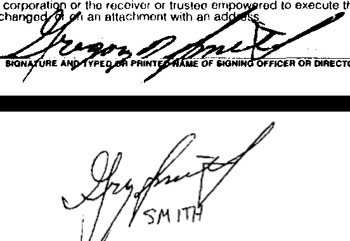 Top, the signature of Gregory D. Smith on Aero Group Jets' 1998 annual report filing; and below, "Greg Smith" on the Gulstream II's September 16, 2007 bill of sale.
In comparing the two signatures, there are some differences, such as one is signed as Gregory D. while the other is signed simply as Greg, with no middle initial.
However, there are some striking similarities as well, including the fact that some of the letters appear to be penned in precisely the same way.
Mike Levine, a former undercover DEA agent who now works as an expert witness in court cases (and also has his own radio show in New York City), had this to say after comparing the signatures:
I did much of this handwriting comparison work, without using an expert, but my opinion was accepted before grand juries as having a significant amount of work experience in comparing handwritings (IRS, BATF, Customs and DEA). I would say the samples you sent me are definitely the same handwriting.
So it does appear Vega's Greg Smith and the Greg Smith linked to the crashed cocaine jet are, in fact, the same person.
Ultimately, though, it is you, kind reader, who has to make that judgment call.
Back to Bogotá
In all of this, we must remember that the cocaine that was onboard the Gulfstream II when it crashed came out of Colombia.
In prior stories, Narco News has reported that leaks of classified information from the U.S. Embassy in Bogotá, Colombia, were allegedly discovered in 1999 during a DEA operation targeting Colombian narco-traffickers. That operation, codenamed "Cali-Man," played out between 1997 and 2000, utilized Vega as an asset, and was overseen by Miami-based DEA Supervisor David Tinsley.
The U.S. Embassy leaks uncovered by Tinsley in 1999 are also referenced in an internal memo drafted in 2004 by a Justice Department attorney named Thomas M. Kent. That memo was leaked to Narco News last year.
The Kent memo also makes other serious allegations that revolve around DEA agents in Colombia assisting narco-traffickers and paramilitary forces — an alliance since dubbed the Bogota Connection.
In the wake of reporting the U.S. Embassy leaks, Tinsley found himself the target of an internal DEA investigation that resulted in his suspension and eventual dismissal from his job.
Tinsley sought to get his job back, claiming the charges against him were bogus. He brought a claim of wrongful termination before a Merit Systems Protection Board (MSPB) judge, who, in April 2004, ruled in his favor and ordered the DEA to reinstate him — with back pay, plus interest.
Vega worked as a cooperating source for Tinsley's Cali-Man operation and likewise ran across the trail of the alleged U.S. law enforcement corruption in Colombia. He, too, was targeted by the government — at the same time Tinsley was being investigated.
The FBI charged Vega in 2000 with obstruction of justice, alleging that he used an illegal scheme of promising Colombian narco-traffickers lenient sentences in exchange for money and their cooperation with the U.S. government. Those charges were dropped, however, because prosecutors were later forced to concede that Vega's so-called "corruption scheme" was actually a government-sanctioned cover story. In fact, Vega claims the FBI authorized the cover story.
But the government still found a way to stick it to Vega by hitting him with a misdemeanor tax charge. Vega says he served 52 days in jail after being convicted in 2004 of that taxing transgression. Ironically, one of the allegedly corrupt Colombian law enforcers who Vega claims was part of the Bogotá Connection, Col. Danilo Gonzalez of the Colombian National Police, was assassinated in Bogotá on the very day Vega was sentenced in the tax case.
Vega, in a recent lawsuit filed in federal court, claims the FBI and DEA both used him between 1997 and 2000 to help broker plea deals with Colombian narco-traffickers and that, in the end, the U.S. government stiffed him out of $28.5 million in promised payments for his work.
It was during that work for the FBI and DEA that Vega ran across Greg Smith, whom Vega claims was brought in by the FBI to pilot some 25 to 30 flights that involved couriering federal agents, Colombian narco-traffickers and lawyers back and forth between the United States and Latin America as part of the naroc-trafficker "recruiting" efforts.
Vega also says that the CIA was very involved in this effort, assisting with assuring the safe transport of the narco-traffickers to the airports in Latin America.
"We did have the full cooperation of the CIA…," he told Narco News.
On at least one occasion, Vega adds, a CIA agent actually flew in the jet during one of the Latin American missions — though he stresses the agent simply needed to hitch a ride and was not directly involved with the operation.
The CIA even popped up during the course of Tinsley's Cali-Man investigation in Colombia. A DEA report obtained by Narco News provides the following details concerning that incident:
[DEA Miami Division Special Agent] SA Vasquez … stated between June and December 1999, he received a complaint from unknown CIA personnel concerning GS Tinsley. According to SA Vasquez, the information he received was vague and pertained to GS Tinsley's unexpected arrival in Panama [where the informant Vega often arranged meetings with high-level Colombian narco-traffickers as part of Cali-Man], and the fact that he [Tinsley] was somehow interfering with CIA operations. SA Vasquez was unable to recall the exact time frame of the incident.
In addition, one of the files leaked out of the U.S. Embassy in Bogotá to a narco-trafficker was a CIA file, according to Vega. The file provided to that narco-trafficker, Vega alleges, was a record of all the intelligence gathered by the CIA in Colombia on some 200 narco-traffickers.
So it appears the CIA's fingerprints are all over the Bogotá Connection.
And now, given Mr. Smith's possible link to the Gulfstream II jet — an aircraft reportedly linked to past CIA operations — Vega says he cannot rule out that Smith might be an asset of not only the FBI, but the CIA as well. He stresses, though, that it is only a "suspicion."
However, Vega says that suspicion is fueled, in part, by the events that played out after he was released from his 52-day jail stint stemming from the tax case. Vega claims that prior to his arrest on the tax charge, as part of a lease-purchase deal, he put $250,000 down toward buying the jet that Smith had piloted in the narco-trafficker recruiting trips to Latin America.
Vega explains that in addition to the missions for the U.S. government, he also used the jet in traveling for his personal business as a fashion photographer.
Vega, who has a long history working as a CIA asset, explains that the fashion business was a perfect cover for his work.
"My operations used fashion as a cover and beauty as a weapon," he says.
After getting out of jail, Vega says he attempted to recover the jet or the money he had advanced for the aircraft, but was paid a visit by the FBI who told him in no uncertain terms to "stay away from the plane."
To this day, Vega alleges, he has not recovered the money nor does he know what happened to the jet.
Mirror reality
It seems that in the world of spooks and covert jets, finding the truth is like finding the source of a light in a house of mirrors.
Several law enforcement sources familiar with CIA operations told Narco News that the Agency's practice is to set up separate companies for each operation, so that if something goes wrong — a jet is lost, for example — there is no bleed over to other operations, which also are being carried out through a matrix of separate companies.
In addition, the sources say the CIA operates like a large management company and regularly contracts for services as needed, including pilots. And because of the nature of its clandestine work, the sources contend the CIA has to deal in the shadowy world of criminal organizations — because the Agency itself is considered an illegal operation in most of the foreign countries in which it has operations.
But it must be stressed that, at this point, it is not clear what role Smith really played in the ill-fated flight of the Gulfstream II.
If you, kind reader, believe the signatures are a match, which means we are dealing with one individual, then it appears that the Smith involved in the purchase of the crashed Gulfstream II has a history of piloting flights for sensitive government operations where the FBI, DEA and CIA intersect.
If, as one scenario might suggest, Smith is indeed a CIA operative — and that is only "speculation" at this point as Vega says — then he likely is only one reflection in an array of mirrors. It just so happens that in this particular case, one of those mirrors has been covered with four tons of coke.
Stay tuned…
Narco News is funded by your contributions to The Fund for Authentic Journalism. Please make journalism like this possible by going to The Fund's web site and making a contribution today.

- The Fund for Authentic Journalism
For more Narco News, click here.