Authentic Journalism Rises Again on Mexico's Yucatán Peninsula
"We have to democratize journalism and make it a tool that is available and of use to every citizen trying to better his or her life and their community's life."
By RJ Maccani

Class of 2010, School of Authentic Journalism
February 6, 2010
PUERTO MORELOS, QUINTANA ROO, MEXICO, FEBRUARY 3, 2010: The 2010 School of Authentic Journalism began its ten-day program Wednesday in the coastal town Puerto Morelos, Mexico. Over sixty students, faculty and staff gathered to hear the School's President, Al Giordano, give an interview that sounded more like a call to arms: "Everybody knows that the old model of commercial, daily newspapers is dying. And everybody is kind of looking to see what will replace it and what we are proposing is that you all go out from here and do that." The arms, in this case, are the laptop computer and digital camera.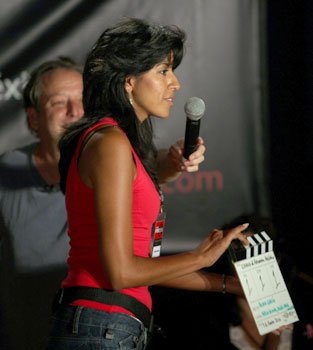 Narco News publisher Al Giordano holds the mic for School of Authentic Journalism professor Lourdes Zuazo – Argentine journalist in Caracas and morning news host for TeleSur – as, clapping the slate board, she officially kicks off the 2010 session in Puerto Morelos, Mexico.
D.R. 2010 Noah Friedman-Rudovsky
Giordano, a veteran of community organizing and journalism, has for the past decade been reporting on "The Drug War and Democracy in Latin America" through his online publication, The Narco News Bulletin, which gained a massive readership in 2001 when it became the first Internet periodical to receive First Amendment protections in a landmark New York Supreme Court case involving the Bank of Mexico.
Shortly thereafter, Giordano began organizing the first School of Authentic Journalism. He picked up the term, "authentic journalism," from his co-defendant in the case, Mario Menéndez Rodríguez, publisher of the Mexican daily newspaper, Por Esto!, and recalled in yesterday's interview that, "A lot of people laughed at me back then [for using the term]. But in the last ten years, so many newspapers have closed down. And it's evident that there is a crisis of credibility in the commercial media, and people aren't laughing anymore."
Giordano drew on recent history to describe precisely what authentic journalism is, and how it relates to community organizing: "The difference between authentic journalism and phony journalism is that the phony journalists are always looking up above at what the people in power are doing. For example, this summer after the coup d'état in Honduras the right-wing kept saying this is all about Hugo Chavez in Venezuela and some aspects of the left-wing were saying this is all about Barack Obama and the United States. And very few journalists, with the exception of some of the people we have here, and a few others, were looking at what was happening on the ground in Honduras and what the people of Honduras wanted, which was lost in the whole debate over whether it was Venezuela or Washington. Authentic journalism looks below. It literally points the camera lens to the ground level and points the microphone to the ground level to listen to what the common and humble people are saying and doing and what the desires are of the people on the ground. In that sense it's identical to community organizing."
Conducted by the School's two youngest students, Geovani Montalvo, 18, of El Salvador and Mariana Simoes, 20, from Brazil, the interview was a State of the Union address on Authentic Journalism.
"2009 became the year that the average citizen began to dominate international television news coverage of important civil resistances," Giordano noted, "Everybody knows that the coup regime in Honduras expelled the reporters of TeleSur from the country. And in Iran the journalists from the Persian BBC were expelled from being able to cover and report in that country. And what happened? The international news networks became dependent on videos made by private citizens, on their cell phones usually, and uploaded to the Internet in order to give coverage of what was going on and the coverage was actually much better when it came from the individual citizens than when it came from the corporate TV crews."
Indeed much seems to have changed since that first crop of students and faculty from throughout the Americas came to this same place in 2003. With a commitment "to disseminate skills and knowledge to all, not to hoard it for a few," which he stated in the build-up to that inaugural School, Giordano provided the reading materials for the program free to the public online. The situation was not much different when the 2004 School of Authentic Journalism was held in Cochabamba, Bolivia. But in 2010, Giordano proudly announced yesterday, "It's not just the 50 or 60 of you that are able to attend a plenary session, for example, on how to write a news story, but that we will share that session with the entire world through what is available now that wasn't available the last time we did the School, which is online video."
And so this year there are four tracks a student can choose from: Investigative Journalism, Online Reporting and Media Criticism, Documentary Filmmaking, and Viral Video Production. It is the students in that last track, on the making of those short, timely and rapidly circulated reports referred to as "viral videos," who will, with some support from the documentary video crew, be producing highlight videos of the School's sessions to share online. It is perhaps a sign of the times too that this viral video program has by far the largest crop of students out of the four tracks.
In addition to technology, money, of course, has always been another limiting factor to the School's reach. Based on the understanding that, "Democracy can only function if all citizens have access to the microphone and to all media, without having to pay for that access," the School has never charged tuition, and in many cases has covered most of the other costs, including airfare, incurred by its students. With the exception of the "Otro Periodismo" tour that brought together journalists to cover the Zapatista spokesperson Subcomandante Insurgente Marcos' tour of Mexico in 2006, nothing like a School of Authentic Journalism has been held since the 2004 edition in Bolivia.
Thanks to a vigorous small donors fund drive buoyed by $20,000 in matching funds from the International Center on Nonviolent Conflict, Giordano was able to award 31 scholarships for the 2010 School to "up-and-coming journalists of talent and conscience" from or reporting in 24 countries. And so it appears the geographic reach of the student body has grown in the intervening years, with students now coming from Africa, Asia and Europe, in addition to the Americas. Unfortunately, two scholarship recipients, Shazia Hazan from Pakistan and Soraya Aguilar from Bolivia were denied visas this year by the Mexican government. And following the earthquake, Jeremy Dupin of Haiti had no embassy left from which to acquire a visa and make the journey. Along with marking the loss of their absence, Giordano announced yesterday that all three would automatically receive scholarships to the next edition of the School of Authentic Journalism.
Coming out of his experience spending the majority of this past summer in Honduras, Giordano made the theme of this year's School "Journalism and Civil Resistance." This is based in his observation that, "It is very hard for any social movement or civil resistance to develop its own strategy and tactics if it doesn't count with journalists and communicators that understand the underlying strategic dynamics of how you make a civil resistance or social movement victorious. We journalists have to learn to think like strategists and tacticians in order to be better able to report on those organizers and strategists and movements that are trying to make changes and defend what is good in their communities and in this country and in this world."
And so it is with this in mind that James Lawson came on Thursday to deliver the keynote speech of the 2010 School in a public event in Mérida, state of Yucatán. Having studied, in India, the strategies and tactics of Gandhi during the struggle for Independence, Lawson, now in his early 80s, was Martin Luther King, Jr's leading strategist in nonviolent resistance during the US civil rights movement. He will be the first of many leaders and strategists of civil resistance movements who will be joining the School in the days ahead.
Also while in Mérida, the 2010 School will be returning to the roots of authentic journalism through collaboration with Mario Menéndez Rodríguez and the staff of Por Esto! In describing this next step, Giordano sharpened his account of the gulf between authentic journalism and the commercial media: "Over the last 18 years has surged the daily, Por Esto!, which is now the third most widely read newspaper in all of Mexico. One of the ways that Por Esto! developed that level of interest from the people is that its director who you will meet in two days, Mario Menéndez, began holding community assemblies in the communities throughout the State of Yucatán. I had the chance to attend a number of those community assemblies when he was still doing them. And all of the ones I attended there were hundreds of members of the community that came out and in some there were thousands. And people were allowed to take the microphone and say whatever they wanted, including criticize the newspaper and its reporters."
"And this created a relationship between the reader and the newspaper and I just thought I could never imagine the Ochses and Sulzbergers of the New York Times going out and holding a public assembly and subjecting themselves to their readers in this way. And I think that has a lot to do with why in the very time when most newspapers have lost circulation and are dying that this fairly young newspaper, Por Esto!, has grown so quickly."
And in the spirit of Por Esto!'s innovative community engagement, Giordano returned once more to further deepen the integral role authentic journalism plays in civil resistance movements: "Because the other thing we have to face facts on is when we report something we also change the thing we're reporting. It's a thing called the Heisenberg Principle. You can't study something without changing it. The way you report on social movements can effect whether those social movements can develop enough traction to become victorious or not. In that sense we are not apart from the movements we cover, we are often a part of them. Because if as workers of journalism and communications we're going to fight for our own freedom of speech and expression and we're going to fight for our own rights, we have to have solidarity with everyone else fighting for theirs. I don't believe that freedom of speech should only be for journalists. And I don't believe that only professionals can be journalists. We have to democratize journalism and make it a tool that is available and of use to every citizen trying to better his or her life and their community's life."
But what, specifically, is expected of us students who are here in the Yucatán, or following along online? Giordano was very clear on this point, "We want you to be the pioneers of this great shift that is happening." So stay tuned, if you accept this challenge, because the 2010 School of Authentic Journalism has only just begun.
Click here for more Narco News coverage of Mexico
Lea Ud. el Artículo en Español

Narco News is funded by your contributions to The Fund for Authentic Journalism. Please make journalism like this possible by going to The Fund's web site and making a contribution today.

- The Fund for Authentic Journalism
For more Narco News, click here.