How to Write a News Story
The First Lesson of the School of Authentic Journalism Begins with Four Easy Steps

By Al Giordano

Class of 2010, School of Authentic Journalism
February 24, 2010

Erin Rosa and George Sanchez in the plenary session on How to Write a News Story in the tropical garden patio of the Hotel Trinidad in Mérida, Yucatán. – Photo:

DR 2010

Omar Vera.

MERIDA

, YUCATAN,

MEXICO

: On the morning of February 5 in the jungle garden patio of the Hotel Trinidad – converted for four days of 2010 into a School of Authentic Journalism campus – three experienced print reporters offer what might be its most important plenary session, titled

"How to Write a News Story."

The first paragraph of a news story, explains George Sanchez – veteran staff reporter for three daily newspapers in the United States – is what is known as "the lead" (in newsroom-speak it is spelled "the lede").

Maybe you consider yourself a writer, or an advocate, or another kind of communicator. Maybe after getting your work published in important journals or websites you presume you already know how to write a good news story. Most writers and reporters think so. But then why does so much of what passes for news writing, including by "professionals," seem so damn uninteresting? It's all those other writers who bore you to tears but surely that can't be true in the reverse! Yet maybe sometimes you ask yourself in a moment of self doubt about why more readers don't respond to what you've written, or comment in response, or do anything to correct the injustices or wrongs that you have exposed with your writing. This second paragraph is the part of the story that seeks to convince you to drop your preconceptions and take this lesson with us that George and others are teaching. George calls this part of the story, "the nut 'graph" because it provides "the context of what the lede is: The lede explains 'what happened' and the nut explains 'what does it mean?'" Truth is, the best writers learn over and over again how to write a news story.

"Typically, if you are working in quick news fashion," George comments, "you want to follow the nut with a quote: A very simple statement from someone who was at the event that gives context life and meaning to what you have just written."

Four easy steps to write: A lede, a nut 'graph, a quote and then add background information. If our students take home nothing else from the 2010 School of Authentic Journalism than those four steps, they and their readers will be served well by them for the rest of their writing years. George and his two co-panelists – US journalist and editor Erin Rosa and Anne Vigna, a French journalist and author who reports from Mexico, Honduras and elsewhere (all three have written for too many newspapers and magazines to count them all here) – stress that this method is just one of many ways to approach writing a news story. But for many veteran journalists, these were the first steps they took on the road to becoming authentic in their craft.
Who? What? When? Where? Why?

George Sanchez – Photo:

DR 2010

Omar Vera.
George begins this lesson with some early questions for journalists to ask ourselves prior to writing a news story: "First thing, before you write your story you need to consider who is your audience. One: who are your readers? Two: who are your editors? Are you writing for a general audience? Or are you writing for a niche audience? With a general audience you cannot get into the minutia and fine detail that you would if writing for an audience that already knows about the subject matter."
George then outlines two general approaches to write a basic news story: "You either answer these five questions: 'Who? What? When? Where? Why?' Or you answer three questions: 'What? So what? Now what?' So you have gone out to cover an event. It could be a protest. It could be a meeting of a civic association. It could be a press conference. You have all your notes of who spoke and what they said. Now you have to organize it."
"Depending on the format you are working in, sometimes you get one sentence for the lede. Some places will give you a whole page," George elaborates. "The lede is sort of a poetic set-up for your story. It must sum up the essence of the news event."
A graduate of the 2003 School of Authentic Journalism in Mexico and its professor in Bolivia in 2004 and now again in 2010, George has clearly absorbed another lesson we teach: The power of repetition as a teaching tool. Again and again he walked the participants through the four basic steps: 1. Lede. 2. Nut. 3. Quote. 4. Background.
"Background is the historical significance of the event you are writing about, maybe the events that led up to the moment that you've just covered," George continues, "or think about it this way: the most important history that must be known if your reader can only read four paragraphs or sentences of a story. Think about it, four paragraphs: Your lead, your nut, your quote, your background. That is a very, very basic structure of a news story."
George offers an example of a lede: "In Los Angeles the Board of Education today voted to extend eating rights for children."
George follows it with a sample nut 'graph: "Although this will improve the health of the district's two million children, it will cost Los Angeles five million dollars."
Now, George delivers a memorable quote: "I had an editor who was an asshole," George remarks, to laughter. "But he used to say you only get four paragraphs at most. You gotta pack everything in there. Your story could get picked up by the national or international wire services: There, you only get four paragraphs tops, at least in the United States. Once you get the four parts done, repeat for whatever space you have left for your story."
Unlearning Bad Writing Habits
Erin Rosa works with university students as a roving news editor, and she tells, "Many of them have gone to official journalistic schools. So my job is to essentially reprogram them and to make them into better writers. George already talked about the structure of a story. But he also asked another very important question. Why should your audience care about what you are writing about?"
Erin then outlines five general points to keep in mind when writing: timeliness, conflict, currency, prominence and proximity.
Timeliness: "Did what you are writing about happen recently or did it happen a long time ago? And if it did happen a long time ago, has it already been written about?"
Conflict: "Another important thing to think about when writing is where the conflict is in your story, between who you are writing about. If there is no conflict of some kind it is not going to be an interesting story.
Currency: "This does not mean financial currency. What it means is, are people talking about the issue you are reporting on? Is it being talked about a lot recently? Because if the community you are serving is talking about it that means they are interested in it and probably want to read more."
Prominence: "Although your job as a journalist is to serve the community below and the regular people in your community, if someone with great power has done something very bad or wrong that is also a story."
Proximity: "Is what you are writing about relevant to where you are located as a journalist? If you work in Chicago and you cover city politics, it would make no sense to talk about national politics unless it related to your local beat."
So much of what constitutes ineffective news writing falls flat because it misses one of four of those points: It's not about something timely or "newsy." It has no conflict to heat it (and the reader) up. It is about something that is not of interest in the community. Or it's about something too far out of the context, geographically or otherwise, of the facts that the writer is reporting.
"You Can Organize It Later"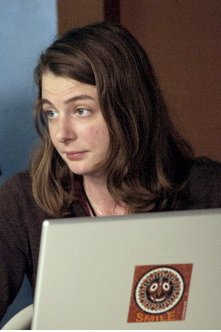 Erin Rosa – Photo:

DR 2010

Omar Vera.
"There are lots of problems I see with writing that make me not a very nice person when I see them," Erin says. And since on first impression she is an extra nice person, this is a little scary to contemplate. If something makes her "not nice" it must be something very awful or grotesque, we conclude.
Hulk not like bad writing. Hulk smash!
The nice Erin continues: "One that is common with students at a university is that a news story will be written like an essay paper. It will have very broad and very general statements that don't mean anything. To use an extreme example, take the phrase, 'A man works to live.' It tells you absolutely nothing that you didn't already know."
"The second thing that seems to be a problem," Erin adds, "is that people assume their audience already knows what they know. And that is not always the case depending on your audience." She explains, for example, that if she were writing about the Zapatista Army of National Liberation (EZLN in its Spanish initials) but only referred to it as the EZLN, "because of who my audience is they would not know what that meant unless I explained it."
"Another problem is leaving the audience with unanswered questions," Erin instructs. "And this can create a very resentful audience if there are big glaring questions left unanswered. For instance if you are doing a profile of a prisoner who is on death row, but you don't ever tell the reader what he did or what he supposedly did to be on death row, that's a big problem."
"One more problem that I see quite often is where facts are stated but no source is given," she says while the rest of us are still hoping that the next point won't make her not nice. "For example, if you write, 'more than 8,000 people died in Mexico in 2009,' you need to let the reader know who is saying that and where the information is coming from."
But in the end, Erin underscores, good news writing is not about structure or format: "While mechanics are important, I really encourage you to experiment with a variety of forms that suit your needs. When you are beginning to write something, don't think about the structure first. Just put it down on paper or type it. It doesn't matter if you are starting in the middle, if you are starting with a quote, as long as you are writing it down you can organize it later."
Erin concludes with some other brief tips. She extols the value of using another set of eyes, perhaps from someone who doesn't know the facts behind the story as well as you do after you've reported it, to see if your story connects with him or her. She urges reporters not to try to transcribe every word from every interview, but, rather, to get in the practice of knowing which quotes in advance one most likely will want to use. And that when a writer regularly hits a wall or gets what is known as "writer's block," it is vital at that moment to take a break from your keypad, get up and walk around, do something else with your body and your mind until you can focus again on the story being written.
"We Are Not Writing a Book"
Anne Vigna is the third journalist to teach at this plenary session on "How to Write a News Story," and she focuses on one genre of news reporting: Writing a profile of a person.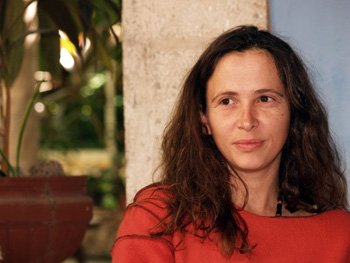 Anne Vigna – Photo:

DR 2010

Omar Vera.
"When we write a profile of someone, we are not writing a biography or a book," Anne begins. Because of the limits on the size of an article it is important that in every phrase there is an idea or information."
The most important thing, Anne stresses, is to interest your reader in the person you are profiling, especially if it is a common or unknown person. She explains, "The first three sentences are very important because the majority of people read the first five sentences and if they don't like them then they stop reading."
And then Anne gives away one of the most important tricks of obtaining a good interview: "It is best not to signal to the people you are going to interview that you know a lot about the subject matter. Because you will learn many more things if the person that you interview thinks you don't know anything."
And that is the very trick I used on George, Anne and Erin when I asked them to lead a plenary session to teach our young students "How to Write a News Story." If I had said that I wanted them to teach me how to do it, or even just to give me a tune-up, they would have been much more quiet and less forthcoming, given that I've been at this craft for a bit longer than each of them, as have some of our other senior professors. But, truth is, our professors and I needed this lesson, too. We all need to have it again and again. We need to return always to those first steps we once took, no matter how long ago: write a lede, then a nut 'graph, add a quote, and then offer background. Every journalist's long road begins with those four simple steps, and with every next story to write, begins anew again.
Lea Ud. el Artículo en Español

Narco News is funded by your contributions to The Fund for Authentic Journalism. Please make journalism like this possible by going to The Fund's web site and making a contribution today.

- The Fund for Authentic Journalism
For more Narco News, click here.