Cocaine Jet Crash in Mexico Linked to Narco-Trafficker Who Worked for U.S. Government
Before His September Arrest, José Nelson Urrego May Have Been Operating as a Trafficker and Money Launderer for Years in Panama, Under U.S. Protection
By Bill Conroy

Special to The Narco News Bulletin
January 12, 2008
Panamanian police descended on a small, private island off the Pacific coast of the Central American nation in late September of last year. They arrested the island's owner, a middle-aged Colombia named Jose Nelson Urrego Cardenas, as well as his 20-year-old girlfriend, who testified before Panamanian prosecutors just this week.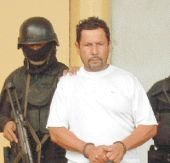 José Nelson Urrego after his September arrest
Photo: D.R. 2008 El Siglo
The police also found a sophisticated communications center on the island that is a clue to Urrego's occupation and to his connection to the Gulfstream II jet that fell from the sky over Mexico's Yucatan peninsula about a week after his arrest — with close to four tons of cocaine onboard.
Baruch Vega, a Colombian citizen who has a long history as a CIA asset operating in Central and South America, has told Narco News that the Gulfstream II was part of an undercover government operation led by U.S. Immigration and Customs Enforcement (ICE) – a law enforcement agency that is part of the Department of Homeland Security (DHS). Previously, DEA officers had told Narco News the same thing, indicating the Gulfstream II was linked to an ICE operation called the Mayan Express.
Documents obtained previously by Narco News also indicate that the jet was used in prior CIA operations and was last owned, in part by a pilot named Greg Smith — who was involved in prior DEA, FBI and CIA operations in Latin America some eight years ago.
Vega, however, offers a key revelation about the Gulfstream II incident that connects the cocaine onboard directly to the U.S. government via an informant and convicted narco-trafficker: Urrego.
In addition, press reports in Latin America add credence to Vega's revelations, which help to piece together the fabric of long-running DEA, ICE and CIA operations in Panama, Colombia and Mexico.
The Urrego Connection
Urrego is a notorious narco-trafficker, according to the DEA, who has done work for the major Colombian drug organizations over the years — the Medellin, Cali and North Valley "cartels" — serving as a money launderer and communications expert. His name will be familiar to anyone who has been reading Narco News' ongoing series on alleged corruption in the DEA's Bogotá office.
He was arrested in Colombia in 1998 on narco-trafficking charges and landed in Bogotá's La Picota prison.
Here's how a U.S. State Department report described Urrego in the wake of his arrest in the late 1990s:
He is a Colombian multi-ton cocaine trafficker and money launderer who is mentioned in over 80 DEA case files dating back to 1982.
Urrego's role as a communications chief for Colombian narco-traffickers is detailed in the following report in Business 2.0 magazine:
[Urrego's] network's command center was hidden in a Bogotá warehouse outfitted with a retractable German-made Rhode & Schwarz transmission antenna about 40 feet high, and 15 to 20 computers networked with servers and a small mainframe. The same kind of state-of-the-art setup existed in communications centers at Urrego's ranch in Medellín, at an island resort he owned, and at a hideout in Cali. Seized invoices and letters show that Urrego or his associates had recently bought roughly $100,000 worth of Motorola (MOT) gear: 12 base stations, 16 mobile stations installed in trucks and cars, 50 radio phones, and eight repeaters, which boost radio signals over long distances.

The range of Urrego's network extended across the Caribbean and the upper half of South America. He and his operatives used it to send text messages to laptops in dozens of planes and boats to inform their pilots when it was safe to go, and to receive confirmations of when loads were dropped and retrieved. According to one intelligence official who analyzed Urrego's network, it was transmitting 1,000 messages a day—and not one of them was intercepted, even by U.S. spy planes.
So, Urrego is not small potatoes in the world of narco-trafficking. In fact, he is one of the big fish. So why did Colombian authorities release him from jail in September 2001 — after he had served only three years for his role as one of that country's major narco-trafficking masterminds?
According to Vega, it's because the U.S. government recruited Urrego as an informant in exchange for the promise of a better deal related to the narco-trafficking charges he was facing at the time. And Vega is certainly in a position to know; for years, he was in charge of negotiating such deals with dozens of Colombian traffickers who ultimately surrendered to U.S. authorities.
In fact, Vega contends Urrego also has been indicted in the United States and was staring down an extremely long prison sentence absent some kind of deal. DEA officers also confirmed to Narco News that Urrego is under indictment in the United States – but don't go looking for the paperwork on that, because you likely won't find it. It is a common practice for court records on U.S. cooperating sources to be "super sealed" to protect the informants' identity.
Vega says he initially approached Urrego in the late 1990s on behalf of the U.S. government to broker a deal with him while he was in prison in Bogota. After several setbacks due to the interference of allegedly corrupt federal agents in Bogota, a DEA agent in Florida named Ed Fields finally managed, sometime around 2001, to set up an operation involving Urrego.
One of Urrego's initial missions involved targeting Colombia's guerrilla rebels, the Revolutionary Armed Forces of Colombia (FARC in its Spanish initials), with a communications sting that played a role, according to the Miami Herald, in the indictments issued against some 50 FARC members in 2006 for alleged narco-trafficking activities.
Fields, with the help of the National Security Agency, according to documents obtained by Narco News, worked with Urrego in carrying out the sting, which involved clandestinely planting government-monitored satellite phones with the FARC's leadership. The CIA also would have been involved in monitoring the operation, particularly any recordings, in the event information surfaced that was of value on the intelligence front, law enforcement and intelligence officials say.
Vega says that Urrego continued to work as a CIA asset from that point onward, while also doing work for the DEA and more recently ICE. In fact, according to Vega, Urrego is the man behind the cocaine onboard the Gulfstream II that crashed in Mexico in late September of last year.
In fact, since his arrest in September, Urrego himself has repeatedly said he was working for the CIA and other U.S. government agencies his entire time in Panamá. If the Panamanian government's charges against Urrego are true, they suggest that he was making huge sums of money through drug trafficking and money laundering while under the protection of U.S. security agencies.
Busted in Panama
On Sept. 15, 2007, a little more than a week before the Gulfstream II jet crashed on Sept. 24 in the town of Tixkokob after being waived off of two airports in the Yucatan, Panamanian authorities raided Urrego's home on Chapera Island off the Pacific Coast of Panama. He was arrested on money laundering charges related to alleged narco-trafficking activities. Reports in the Panamanian press (including this one in the newspaper El Siglo) claimed Urrego had established an impressive communications center on the island that he bought for some $12 million, and that he had numerous bank accounts, properties and shell companies that served as fronts for his money laundering activities.
Reuters reported the following on Sept. 21, 2007:
PANAMA CITY

(Reuters) – Panama said on Friday that it would investigate how a known Colombian drug trafficker managed to obtain Panamanian residence, ID cards, bank accounts and even a $12 million private island without being noticed.

President Martin Torrijos said a probe would be opened into how Jose Urrego, who was detained by Colombia in the 1990s for drug smuggling, carried on illicit activities unnoticed in Panama for at least three years until his arrest last week.

Urrego, 53, was arrested on Chapera Island, off the Pacific coast. Police said he was working as communications chief for Colombia's Norte del Valle cartel.
Urrego claims he was not engaged in any illegal activities and denied ever serving as a communications chief for Colombian narco-trafficking organizations.
After his arrest, Urrego told prosecutors he had connections to the CIA, which had provided him training in the use of specialized communications equipment, and that since 2005 he has had a driver's license, work permit and a multiple-entry visa for the United States — provided through ICE. According the Panamanian daily La Prensa, Urrego had been in the United States numerous times over the course of 2007, as recently as July of last year.
(Given ICE's well-publicized efforts to round up and deport working immigrant families who lack proper U.S. paperwork, the fact that a known narco-trafficker was allowed to enter and leave the country freely speaks volumes about the double standards inherent in U.S. immigration policy and also hints at the high value placed on Urrego as a cooperating source for U.S. government operations in Latin America.)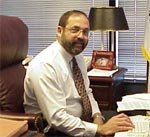 Sandalio Gonzalez
Photo: Federal Hispanic Law Enforcers Association
"If Urrego was allowed to come and go in the states like that, he likely was allowed to roam, and who knows what he was doing," says Sandalio Gonzalez, a retired
DEA
agent who served in the mid-1990s as the head of
DEA
's South American operations. "Usually, you relocated a source to the states for safety, but if Urrego was going back and forth to Panama, he was not worried about safety."
Vega contends that Urrego's arrest by Panamanian authorities compromised ICE's operation, leading to the crash of the Gulfstream II jet. He, along with several law enforcement professionals who spoke to Narco News , say it is even possible that Urrego's arrest led the narco-traffickers involved to purposely cause the crash of the jet — avoiding an airport landing that might well be a trap — so that corrupt law enforcers in Mexico working with the traffickers could get to the scene and make off with some of the cocaine payload. Reports in the Mexican publication Por Esto! do raise the speculation that some of the jet's payload was, in fact, unaccounted for in the wake of the crash.
A retired CIA case officer, Leutrell Osborne, told Narco News that Urrego's arrest might well have been a surprise to the U.S. government agencies using him as an informant. Osborne also says another possibility is that the Agency purposely set him up in order "to protect somebody else."
Osborne stresses, however, that he has no personal knowledge of CIA's alleged relationship with Urrego.

Tons of cocaine seized after the September 2007 crash in Yucatán
Photo: D.R. 2008 Por Esto!
Vega points out that
ICE
's Mayan Express was being carried out unilaterally in Latin America.
DEA
employees who spoke anonymously to Narco News said the same. In other words, government and police officials in Panama, Colombia and Mexico had no idea such an operation was taking place or of Urrego's role as an informant. Several law enforcement officials also say the operation could not have been pulled off in secret south of the border absent substantial assistance from the
CIA
.
Vega says this secrecy was necessary because U.S. officials were concerned that corrupt elements within those countries' political and law enforcement ranks — as well as allegedly corrupt agents in the U.S. Embassy in Bogotá — might compromise the operation and Urrego if U.S. officials made the operation known.
However, that also meant Urrego and ICE's Mayan Express were breaking the laws of those Latin American nations, as evidenced by Urrego's arrest by Panamanian authorities. For possible answers to why the CIA and ICE would be involved in such an operation in the first place, see this accompanying report.
The Operation
Vega understands well what it is like to work for multiple U.S. agencies at the same time. From 1997 through 2000, he made numerous trips to Latin America as part of a mission supported by the FBI, DEA and CIA to broker deals with Colombian narco-traffickers — with an eye toward recruiting them as cooperating sources.
Greg Smith, who is listed on the bill of sale for the Gulfstream II jet, was Vega's pilot for most of those trips, Vega confirms. Vega currently has a lawsuit pending in federal court in Washington, D.C., in which he alleges the government short-changed him to the tune of some $28.5 million in promised payments for his highly dangerous work. He also alleges that corrupt agents in the U.S. Embassy in Bogota compromised him and his mission because they are in league with Colombian narco-traffickers — which Narco News has reported on extensively in its Bogota Connection series.
Vega's documented experience as an informant for multiple U.S. agencies shows that someone as well connected as Urrego in the narco-trafficking world also would be viewed as a highly valued asset by numerous U.S. government agencies. And each of those might have used Urrego in separate or joint missions to achieve their varied — maybe even conflicting — goals, as happened with Vega.
As a result, Urrego essentially became a narco-trafficker and money launder employed by the U.S. government — without the knowledge of the foreign nations where he carried out his deeds for Uncle Sam.
Vega says that in the case of the Gulfstream II jet, Urrego played a key role in organizing a syndicate of buyers who put together the cocaine shipment for delivery to the U.S. market. He claims Urrego's share of the deal involved contributing some 350 kilos of the nearly four-ton payload, the rest of the cocaine coming from right-wing paramilitaries in Colombia who are involved in the narco-trafficking business. The game plan, Vega contends, was to track the cocaine after it had been delivered to the United States, with the hope of making arrests along the supply chain inside the United States.
"Urrego was participating [in the cocaine shipment] as an investor on behalf of the United States," Vega explains. "… He was part of the syndicate."
Vega adds that once the drug shipment arrived in the United States, Urrego was to be notified by his partners in the deal, and he in turn, unbeknownst to them, would provide that information to U.S. law enforcers (ICE) so that the drugs could be monitored from that point and cases built against individuals involved in the distribution of the drugs in the United States.
The problem with such a plan, DEA sources contend, is that by allowing the dope into the country in the first place — a shipment assisted by a jet provided via the U.S. government — ICE, with the support of CIA, essentially becomes a drug smuggling organization, and its operations south of the border could never be revealed in a court of law because they violated international laws.
In addition, should something go wrong — Urrego fails to provide accurate information on where the dope is landing in the U.S. or there are last minute changes he is not made aware of for some reason — some four metric tons of cocaine would hit the streets of the United States unchecked. In addition, it is likely the cocaine on the Gulfstream II jet was not the only shipment involved, since DEA sources tell Narco News that the Mayan Express is an "ongoing operation."
"What sense does it make for the government to smuggle drugs into the country itself just to make cases?" Gonzalez says. "I find it strange for a law enforcement agency to be running a unilateral operation involving that much dope being moved out of Colombia. It's an indication to me that something illegal is going on involving either crooks and/or government people."
The Mayan Express: What Was
DEA

's Role?

Vega contends that before the Gulfstream II's crash, DEA did know about the ICE operation. And DEA spokesman Steve Robertson told Narco News previously that his agency played no role in the Gulfstream II case, other than being charged with investigating the jet's cocaine payload after the aircraft collided with the Earth.

"Our Mexico City office is working an investigation on it now," Robertson says. "It started after the seizure [the jet crash]. It's an ongoing investigation.

"… It was not a DEA operation. The briefing I've gotten is that our investigation started after the seizure."

Narco News made several efforts to contact ICE officials for comment on this story, both by phone and e-mail. To date, no one at ICE has responded.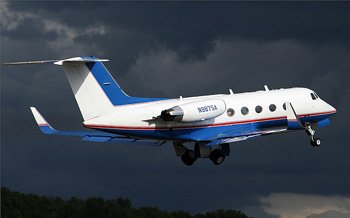 The Gulfstream II with tail number

N987SA

, one month before it crashed in the Yucatán peninsula.
Photo D.R. 2007 George N. Dean, Airliners.net
Law enforcement sources tell Narco News that it is quite possible that
DEA
chose not to get involved with the operation because it would have violated the laws of Panama, Colombia and Mexico.
DEA
would have the most to lose if linked to such an operation, since it operates openly and closely with governments in the region and would risk having that cooperation compromised if the operation were exposed.
And there is a precedent for the DEA refusing to approve operations deemed to be outside the bounds of the laws of the foreign nations where the agency has a presence.
In the early 1990s, the CIA ran a spook mission designed to infiltrate Colombian narco-trafficking groups that resulted in at least a ton of cocaine — some estimates put the figure much higher — entering the United States unchecked. The former head of the DEA, Robert Bonner, incensed at the Agency's actions — which went forward even after DEA refused to sanction the operation — appeared on national TV at the time and essentially accused the CIA of engaging in drug trafficking.
The CIA operation, which was carried out with the assistance of a Venezuelan National Guard general who was a CIA asset, unraveled after U.S. Customs seized a load of the dope in Miami.
However, law enforcement officials Narco News spoke to also say it is likely current DEA leadership would not have openly challenged the ICE operation — particularly if it was approved at high levels within the Bush administration. If that's the case, the irony is that DEA is now charged with investigating a jet crash that they know is linked to a U.S. government operation that was being carried out in violation of the laws of numerous Latin American nations.
Former CIA case officer Osborne says that assuming Urrego is a CIA asset, he would have been of high value for three reasons: his connections to the narco-trafficking world, his skill as a money launderer and his expertise in communications. However, he says one of those areas would have been given a higher rating depending on the nature of the CIA's target in the region. He also concedes that CIA might well have turned a blind eye to Urrego's criminal activity — including narco-trafficking — in order to advance a high-priority "national security objective."
"If it's a [high-value] intelligence operation, the CIA will continue the operation to get more information, even if some drugs are getting into the country," Osborne says.
Gonzalez, who also held leadership positions in DEA's field offices in Miami and El Paso prior to retiring in 2005, makes it clear that in all likelihood Urrego remained involved in the narco-trafficking and money laundering business while working as a cooperating source for the U.S. government. And Gonzalez also stresses that in his experience working overseas, the CIA was often an obstacle to overcome when it came to DEA's mission of disrupting the narco-trafficking trade.
"The problem with putting U.S. police and spies overseas is that the spy agenda comes first, before law enforcement," Gonzalez says. "The only time that doesn't happen is when we do something and don't notify the spies, and a lot of times we did it that way because of the hypocrisy of it all."
See today's related story: Jet Case Colored with Shades of Iran/Contra and "House of Death"
Narco News is funded by your contributions to The Fund for Authentic Journalism. Please make journalism like this possible by going to The Fund's web site and making a contribution today.

- The Fund for Authentic Journalism
For more Narco News, click here.