Javier Sicilia and North American Organizers Present Caravan Bound for Ciudad Juárez
"In This March We Are Again Embracing Ourselves Amidst This Pain and Recognizing Ourselves Through Love"
By Lucero Mendizábal

Class of 2011, School of Authentic Journalism
May 22, 2011
"The United States has imposed war on us, its legalized weapons are much more terrible than the drugs because they are severe and spreading and are killing us," said writer and poet Javier Sicilia at a press conference held last week to announce a Civil Caravan that will leave the city of Cuernavaca on June 4 destined for Ciudad Juárez.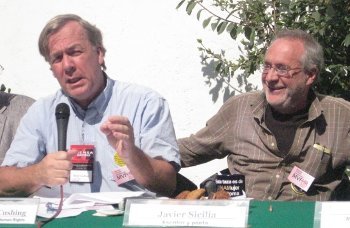 Renny Cushing (left), director of Murder Victims' Families For Human Rights in the United States who was in Mexico as a professor with the School of Authentic Journalism, adds the support of his national organization to the caravan called for by Javier Sicilia (right) to Ciudad Juárez, announced for June 4-12.

DR 2011

Marta Molina
The caravan for Peace and Justice with Dignity will travel to distinct points in Mexico described by human rights defender Emilio Álvarez Ícaza Longoria as "emblematic places of the pain in our country that offer a sense of the geography of the terror," because they are spaces that represent the collective and reflected sense of the most serious injustices and impunity.
At the podium Javier was joined by human rights activists and members of Mexican and US civil society, as well as representatives of organizations who have joined the civil resistance movement against the drug war and whose intentions are to stop the policies of a Felipe Calderón government that has a 18 months left before leaving office.
Among the participants were Jorge Mújica with the March 10th Movement for the struggle of immigrants in the United States, Charlie Goff with Pastors for the Peace, an organization that promotes humanitarian aid caravans, and Robert Renny Cushing, director of Murder Victims' Families For Human Rights and an attendee of the 2011 Narco News School of Authentic Journalism that was taking place in Mexico at the time. Julián Le Barón, from the state of Chihuahua, portrays himself as a citizen who has never been an activist. "My brother and some other people were murdered, my brother Benjamín and his brother-in-law Luis Widmar. I'm here to participate because among the 40,000 dead there are my siblings, too."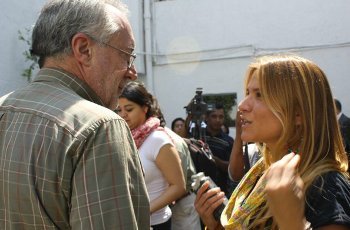 Javier Sicilia, interviewed at his press conference on May 19 in Mexico City by Catalonian journalist Marta Molina, class of 2011 with School of Authentic Journalism.

DR 2011

Terri Bennett
At the conference there were more than thirty commercial and independent media outlets, plus nine scholars and professors from the School of Authentic Journalism. They were there because it's a subject that is very significant to our work and our commitment to our journalistic craft. That is why Renny Cushing couldn't offer more than his presence to join the cause when he learned of the event. "This is a struggle without borders, because here, like in the United States, we've had it up to here with so much violence." he said. "It's very important to remember the names of the people who were killed, so that they are not things, not numbers, not statistics, but real."
Charlie Goff with Pastors for the Peace highlighted four main points in the battle: narco-trafficking, immigration, weapons, and money. "The United States launders money and provides weapons and the drug market. It's important that your people participate in the resolution of this conflict," he said. Jorge Mújica, as the voice for the Movement of Immigrants shared the sentiments of the group, saying, "A new nation can't be refounded without us Mexicans living abroad. For many years this nation has been living in ignorance and we don't accept that."
Julián Le Barón called "to the Mexicans and United States residents who still have a heart, to those who have a conscience. I want to call on you to do a nonviolent occupation of Ciudad Juárez in order to touch our consciences, for you to accept your individual responsibility with the violence. I've already had it up to here with the violence and I don't think more violence is the solution."
In response to a question from our j-school compañera Marta Molina about a message to world society, Javier Sicilia responded that "we aren't statistics. We are humans. And to the extent that we can build communities and ways of life where human beings can look into our eyes and understand we have a pact that there will be no crime—when they say 'How can I help you and welcome you, how can I protect you?'—in this march we are again embracing ourselves amidst this pain and recognizing ourselves through love."
This movement is a space for a reflection on the society that we want and think about building, and our active role as transformers of our own reality. While it's true that the isolation and indifference from our personal space will not bring us change, it's also true that in the power of transformation and the construction of a new and more just society that fairness and peace are only the result of a restless community, a community that assumes responsibility as an actor of change and commits its heart and mind in the search for multiple efforts to achieve it.
Finally we offer the tentative route, which is close to being defined:
Saturday, June 4: Leave from Cuernavaca going through Mexico City and arriving at the Angel of Independence, following to Toluca and then Morelia.
June 5: Morelia, Guadalajara, León, San Luis Potosí.
June 6: San Luis Potosí, Zacatecas and Durango.
June 7: Durango, Torreón, Saltillo, Monterrey.
June 8: From Monterrey returning to Torreón, then to Camargo, Chihuahua.
June 9: Chihuahua a Juárez.
June 10: Ciudad Juárez.
June 11: El Paso, Texas is invited to do an activity or a simultaneous event.
Lea Ud. el Artículo en Español

Narco News is funded by your contributions to The Fund for Authentic Journalism. Please make journalism like this possible by going to The Fund's web site and making a contribution today.

- The Fund for Authentic Journalism
For more Narco News, click here.