Third Cocaine Plane Surfaces and is Tied to Web of Government Connections
Drug War Beginning to Look Like One Giant Cover Story
By Bill Conroy

Special to The Narco News Bulletin
January 29, 2008
On a fall evening in a cotton field in Nicaragua, a group of armed men placed a series of torches in a line of planters along a makeshift runway.
About half an hour later, around 9 p.m. that evening, Friday, Nov. 26, 2004, a twin-prop Beechcraft King Air 200 touched down on that rural runway and came to a stop. The assembled men began to unload the plane, which was packed with cocaine, while holding the sole witness to the event, a local field hand, captive.
Before departing, the men attempted to set fire to the plane, but miraculously it did not burn. They departed the area in trucks with the plane's valuable payload, leaving behind the lone witness, alive, and more than a half dozen AK-47 automatic rifles.
Several days later, Nicaraguan law enforcers apprehended a truck headed for Honduras carrying 1,100 kilos of cocaine. The driver was arrested and the cocaine payload seized. The Nicaraguan law enforcers said the source of the seized dope appeared to be the Beech 200 found abandoned in the cotton field. Police had found traces of cocaine onboard the aircraft as well.
The Beech 200, undamaged by the attempt to set it ablaze, was eventually turned over to the Nicaraguan military for use in future drug war efforts in that nation.
That's the storyline provided to the Nicaraguan newspapers (links here and here) that reported on the Beech 200 incident more than three years ago. Those same newspaper reports included photos of the abandoned aircraft and list the tail number variously as MN-167-NT or MN-168-NT. However, the photos are taken from angles that fail to show the Beech 200's tail number.
Narco News ran the press stories about this Beech 200 by a former U.S. Immigration and Customs Enforcement (ICE) special agent, who has experience working in Latin America. The source's first reaction was to laugh out loud.
ICE, by the way, is apparently connected to ongoing operation in Latin America called the Mayan Express, which Narco News has previously reported played a role in another cocaine plane shipment — the Gulfstream II jet that crashed in Mexico last September with some 4 tons of coke onboard.
The press reports about the Beech 200 incident just didn't smell right, given that members of a nonprofit Venezuelan search and rescue group also obtained their own own photo of the abandoned aircraft. That photo (link here) does show the Beech 200's tail number: N168D, which Federal Aviation Administration records indicate is registered to a North Carolina company called Devon Holding and Leasing Inc.
According to press reports and an investigation conducted by the European Parliament into the CIA's terrorist rendition program, Devon Holding is a CIA shell company and N168D is a tail number to a CIA aircraft.
The former ICE agent went on to explain the cause of his humor over the Nicaraguan press reports. He said if the armed men involved in the cocaine shipment were indeed real narco-traffickers, they would not have left a witness alive to talk, nor would they have bungled the attempt to burn the plane — which is not a hard thing to accomplish considering the flammable nature of the fuel that feeds it. Most telling, he says, they would never leave behind their guns.
"Those guns are their only protection," the ICE agent says. "And an AK-47 is a prized possession in their world."
The former agent says the press was fed a big fat lie, and they bit on it hook, line and sinker, because it made for good ink. The ICE agent adds that, to him, the Beech 200 incident has all the markings of a government-run operation. He says the reason the plane was not burned up is that the plan all along was to reuse the aircraft for use in a future government operation — and it was, according to the press reports, turned back over to the Nicaraguan government after all.
The CIA-linked tail number on the Beech 200, then, raises some serious questions as to the ultimate destination of the cocaine onboard as well. Similar questions have been raised about the planned destination of the nearly 4 tons of cocaine onboard the Gulfstream II jet that crashed in the Mexican Yucatan last fall. A CIA asset named Baruch Vega claims the Gulfstream II was part of a U.S. government operation (the Mayan Express) that utilized a well-known Colombian narco-trafficker turned informant named Jose Nelson Urrego.
Urrego was arrested on money laundering charges by Panamanian police about a week prior to the Gulfstream II's crash landing. Urrego claims he worked for the CIA, according to Panamanian press reports — a fact Vega also confirms. Greg Smith, one of the owners of the Gulfstream II, according to its bill of sale, also has been linked to past ICE, DEA and CIA operations in Latin America, Narco News reported previously. And the Gulstream II itself has been linked to past use in the CIA's terrorist rendition program, according to European investigators.
Given these realities, attorney Mark Conrad, a former supervisory special agent with U.S. Customs, ICE's predecessor agency, speculates that the Mayan Express operation is not controlled by ICE at all, but is, in fact, a CIA-run operation using ICE as a cover. He adds that the CIA has agents operating inside many federal law enforcement agencies utilizing what is known as an "official cover."
The former ICE agent who spoke with Narco News about the Beech 200 also suspects CIA is running the show in these drug plane operations. He says ICE is a perfect vehicle for the CIA because it can provide the Agency with a free pass through U.S. ports of entry.
"All an ICE agent has to do is make a call and the cargo will be cleared through the checkpoint," he says.
Journalist and author Doug Valentine recently revealed the inner workings of these CIA cover methods within DEA in a story he penned for Counterpunch.
From Valentine's story:
By 1977, some 125 "former"

CIA

officers had been infiltrated into the

DEA

at every level of the organization, especially in intelligence units, making everything possible— from black market arms exchanges, to negotiations with terrorists, to political assassination. It also put the

CIA

in total control of targeting.
Leutrell Osborne, a former CIA case officer, told Narco News essentially the same thing when he conveyed his concern about the merging of spook and law enforcement agendas.
"Law enforcement and intelligence operations have become one and the same," Osborne says. "We as citizens are all affected by this because it has a major impact on civil and human rights."
The Beech 200 and Gulfstream II cocaine planes, both now linked to CIA planes and/or assets, raise the specter of this merged law enforcement/intelligence approach to the war on drugs — an approach that tolerates or even enables drug running for the sake of some perceived higher value in the dirty world of covert action. This curious connection is magnified further by the fact that a third cocaine aircraft also appears to be in the mix: A DC-9 jet apprehended in Mexico in April 2006 with some 5.5 tons of cocaine onboard.
Given the evidence bubbling to the surface due to public faces of these cocaine jets, the pattern seems to be self-evident, even if officially our government continues to deny the evidence.
Rotating Tail Numbers
The European Parliament, which undertook an exhaustive study of the CIA's terrorist rendition program, provided the following overview of that program in a report it issued in 2006:
Ultimately, in this inextricable net, there is also the possibility that single aircrafts change their registration numbers (as for the Gulfstrean V, from Richmor Aviation, registered as

N379P

, then,

N8068V

and then

N44982

).

There are indeed 51 airplanes alleged to be used in the extraordinary renditions, but, according the Federal Aviation Administration records, there would be 57 registration numbers. It comes out that some of them are registered more than once.

Among the 51 airplanes alleged to be used by CIA:


26 planes are registered to shell companies and sometimes supported by operating companies.
10 are designed as "CIA frequent flyers", they belong to Blackwater

USA

, an important

CIA

and

US

Army "classified contractor". It provides staff, training and aviation logistic. In this case there is no intermediation of shell companies.
The other 15 planes are from occasional rental from private companies working with

CIA

as well as with other customers.

2. COMPANIES INVOLVED
Shell Companies 6,
• CROWELL AVIATION TECHNOLOGIES, INC
• PATH CORPORATION
• RAPID AIR TRANS, INC.
• STEVENS EXPRESS LEASING, INC
• AVIATION SPECIALTIES, INC
• DEVON HOLDING AND LEASING, INC
• BAYARD FOREIGN MARKETING, LLC.
• KEELER & TATE MANAGEMENT, LLC
The rotating tail number scenario seems to have played a role in the Beech 200 incident. The number on the plane, N168D, as shown in the photo from the Venezuelan nonprofit group, actually is registered to a different aircraft, according to FAA records. That tail number, N168D, FAA records show, belongs to a large cargo plane known as a CN-235-300, and its registered owner is the same CIA shell company, Devon Holding, referenced in the European Parliament's report.
A photo and further background on this CIA plane can be found at this site.
The Beech 200's real tail number, the Venezuelan search and rescue group reports, is N391SA — which is registered to a company in St. Petersburg, Fla., called Skyway Aircraft Inc., FAA records show.
Coincidentally, the DC-9 jetliner apprehended in Mexico in April 2006 also is linked to a Skyway Aircraft Inc. in the Tampa/St. Pete metro area. That Skyway Aircraft, based in Clearwater, is an affiliate of Skyway Communications Holding Corp., which has been in Chapter 11 bankruptcy proceedings since June 2005. (Journalist Daniel Hopsicker has reported extensively on Skyway Communications' role in the mystery of the cocaine jets.)
Skyway Communications, the parent company of Skyway Aircraft in Clearwater, arranged to purchase the DC-9 (tail number N900SA) via a stock swap with a Costa Rica-based firm called Dupont Investment Fund #57289, in November 2004, according to a filing with the U.S. Securities and Exchange Commission (SEC). However, the jet was ultimately registered with the FAA in August 2005 by a company called Royal Sons Inc. prior to being sold to an unknown Venezuelan buyer only days before it was apprehended in Mexico on April 10, 2006, with 5.5 tons of cocaine onboard.
Royal Sons President Frederick J. Geffon is a shareholder in Skyway Communications and his company is a major creditor in the Skyway Communications bankruptcy (links here and here). In addition, Royal Sons and Skyway Communications previously teamed up to purchase a separate DC-9 via a joint loan agreement, a January 2004 SEC filings shows. That DC-9, tail number N120NE, is now registered to a company in Houston called AIRCRAFT GUARANTY TRUST LLC TRUSTEE, FAA records show.
The paper trail is complex, but it all boils down to several individuals who conducted business with each other via several South Florida companies that all intersect with Skyway Communications, the parent company of Skyway Aircraft in Clearwater, Fla. Those individuals are the following:

Brent Kovar, president of Skyway Communications;
Joy Kovar, (Brent's mother) also an officer of Skyway Communications;
James Kent,

CEO

of Skyway Communications;
Glenn Kovar, (Joy's husband and Brent's father) listed as the original sole board member of Skyway Aircraft in its Nevada articles of incorporation,

SEC

records show. Skyway Aircraft in Clearwater, Florida, is set up as a foreign corporation (based in Nevada) that does business in the Sunshine State.
The Kovars all intersect through a company called Skyway Global LLC, which licensed the wireless technology to Skyway Aircraft that was the basis of a proprietary air-to-ground communications system that Skyway Communications marketed as its exclusive product. The Kovars, according to a 2002 SEC filing, are all officers of Skyway Global.
Skyway Communications CEO Kent also has an interesting background, SEC records show:
Mr. Kent served in various government contract management positions providing financial and program management services supporting national communications and intelligence projects for the Department of Defense, National Security Agency, and Department of the Navy.
And Skyway Communications itself is linked to the nation's national security apparatus, according to a press release the company issued through Business Wire in May 2004:
As previously announced, SkyWay Communications Holding Corp. (OTCBB:SWYC), and its wholly owned subsidiary, Sky Way Aircraft Inc., have entered into a sales and marketing partnership agreement with The Titan Corporation, a multi-billion dollar US defense industries contractor who presently manages more than 2,500 contracts with a backlog of more than $4 billion dollars in the areas of Homeland Security and Anti-Terrorism, Command, Control and Communications Systems, Aircraft Defense Systems, Network Communications, as well as other information and communications systems and solutions associated with national defense.
Finally, Brent Kovar appears to have a special relationship with the movers and shakers of the U.S. political system, according to this August 2003 press release:
Congressman Tom Delay, Majority Leader, has appointed Brent C, Kovar, to serve as the Honorary Chairman, Business Advisory Council. Officials from the National Republican Congressional Committee announced that Mr. Brent C. Kovar has been appointed to service on the Business Advisory Council in recognition of his valuable contributions and dedication to the Republican Party.
Skyway Communications lost some $40 million between 2002 and its eventual bankruptcy filing in 2005. But it did manage to directly or indirectly acquire two DC-9 aircraft, one of which eventually found its way to Mexico, via Royal Sons and then an unknown Venezuelan owner, with 5.5 tons of cocaine onboard.
Royal Sons' Geffon claims he is a victim of Skyway Communications debacle and stresses that he knows very little about the DC-9 coke jet and has no responsibility for the cocaine found onboard since his company did not own the jet when it was apprehended in Mexico.
"I just chalked it all up to a bad experience," he says.

Brent Kovar, in a promotional video for Skyway Aircraft.
Photo: St. Petersburg Times
And Glenn Kovar has another interesting business associate, according to a check of Florida's corporation records. Glenn Kovar is listed as an officer in an inactive Florida company called
Homeland Security Tracking Enforcement Inc.
, along with his wife Joy and another businessman named Donald A. Mitchell.
It turns out that Mitchell in 1996 served as the president of a Panamanian investment company called The Firm of Marc Harris, according to SEC filings. Mitchell left Harris' firm about a year later due to a business dispute, court records show.
That was probably a stroke of luck for him given the eventual fate of the founder of The Firm of Marc Harris. Marc Harris, was arrested in Nicaragua in June 2003 on money laundering charges and is currently serving a 17-year stint in U.S. federal prison.
The Kovars could not be reached for comment. The phone number for Skyway Communications is now disconnected. Geffon says he knows only that Brent Kovar resides in the tiny St. Petersburg community of Tierra Verde.
Skyway St. Pete
Brent Kovar's address in Tierra Verde is 121 6th St., according to corporation records filed with the state of Florida.
Brent Kovar, who served as president of Skyway Aircraft in Clearwater, lives a short distance away from the home of Larry Peters, who owns a company with an identical name (Skyway Aircraft Inc.) in St. Petersburg.
Peters' address in Tierra Verde is 615 Monte Cristo Blvd., Florida, corporation records show.
Like the DC-9 linked to Skyway Communications that was eventually sold to a buyer in Venezuela, Peters' company sold the Beech 200 to a Venezuelan purchaser as well, in October 2004, about a month before it was apprehended in a Nicaraguan cotton field linked to a payload of some 1,100 kilos of cocaine. In addition, since 2004, Peters' Skyway Aircraft has sold four additional planes to Latin American buyers, according to FAA records — the most recent a Gulfstream jet exported to Panama in June 2007.
(However, this is not the same Gulfstream II that crashed in Mexico last September.)
Like Geffon, Peters says he has no control over what happens to an aircraft his company sells after it leaves the country.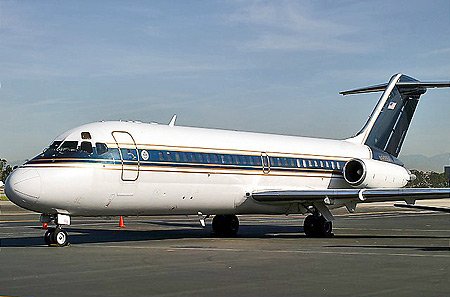 DC-9 with tail number

N900SA

, shown here two years before its aprehension in Mexico with 5.5 tones of cocaine. Note the Skyway logo toward the front door.
Photo: D.R. 2004 Michael Cater, Airliners.net
"When we sell a plane, it is deregistered and it leaves my place," Peters told Narco News. "I sell about five planes a month all over. I also have a business in Brazil that does refurbishing work on planes."
Interestingly, the Gulfstream II jet that was ditched in Mexico's Yucatan last September was sold to a company controlled by two Brazilian businessmen prior to being flipped to Greg Smith (a U.S. government-connected pilot) and his partner, Clyde O'Connor. However, that is likely just another coincidence in a series of coincidences involving the three cocaine aircraft.
Peters adds that he has no personal relationship with Brent Kovar, though he does know they are neighbors in the waterfront neighborhood of Tierra Verde. In fact, Peters claims he was troubled by the fact that Kovar operated a company with the same name as his company, which is something Peters says the state of Florida should not have allowed.
"I followed him [Brent Kovar] home one day," Peters says. "He drives a Hummer with the Skyway name on it, and I followed him home, and then contacted my lawyer."
Peters adds, however, that he chose not to take the matter to court because he could not afford an extended, costly litigation battle.
He also declined to disclose any information about the Venezuelan buyer of the Beech 200.
"I have no idea who we exported that plane to in Venezuela and I wouldn't release that information anyway," he says. "…There's nothing I can do to control what happens after I sell an airplane to someone."
Following the Vanishing Guns
So, it seems, this entire paper trail of coincidence leads back to some half dozen supposedly abandoned AK-47s in a cotton field in Nicaragua. And the odds are, if a former ICE agent is to be believed, those weapons, if they existed at all, were likely a red herring used to bait a gullible media.
Journalist Valentine, in his recent Counterpunch story, offers some insight into the possible nature of this complex trail of coincidence:
With Bush's war on terror, the situation has only gotten worse. In Afghanistan and South West Asia, the

DEA

is entirely infiltrated and controlled by the

CIA

and military.

DEA

headquarters is basically an adjunct of the Oval Office. And the Establishment continues to keep the lid on the story. After sending my manuscript to two reviewers—one with

CIA

connections, the other with

DEA

connections—my publisher has stopped communicating with me. I think my editor just wants me to go away.

One can only wonder how deeply America will descend into this vortex of fear and subservience to state security before it vanishes altogether.
So, what does this intersection of government agencies and assets, money launderers, narco-traffickers, cocaine jets, and public and private companies really reveal, and how does it relate to Valentine's own revelations? What was the CIA's true interest in these drug flights, and how many drug shipments has the agency protected toward that end?
For now, we will have to keep digging, since nobody in our government, including the Congress, seems inclined to investigate the matter. As a result, the drug war will continue as one immense cover story that makes for good ink — and fiction.
Stay tuned…
Narco News is funded by your contributions to The Fund for Authentic Journalism. Please make journalism like this possible by going to The Fund's web site and making a contribution today.

- The Fund for Authentic Journalism
For more Narco News, click here.